FOPS (PTA)
Parent Teachers Association
Petersfield FOPS is a well-established partnership between parents, teachers and the local community that aims to strengthen the school community and raise funds. Money raised by FOPS is to fund the 'extras' that the school would not otherwise be able to provide. Decisions about what to fund are made each year by the FOPS committee with input and requests from parents and teachers alike.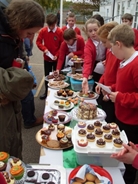 Regular FOPS events through out the school year include:
Fireworks night - a night of fun and fireworks for the whole family offering a good-value night with BBQ, Glosticks, mulled wine and hot chocolate, sweets and more!
The Christmas Fayre - a chance for the children to share the excitement of Christmas with a cake stall, teas and coffees, secret presents, a raffle, tombola, and games stalls.
Schools Discos - Key stage 1 and 2 discos held each term as a chance for pupils to get together with their friends and have fun. We sell sweets and drinks, do face-painting, temporary tattoos and nails.
RUN ORWELL – Offering chipped timed 5k and 10k routes and a 2k fun run, save the date – 30th June 2019
Cake stalls - organised by the pupils and held once a half term hosted by each class in turn. It is a great way for pupils and parents to get involved as they help sell the cakes to the rest of the school and other parents.
Annual Quiz night - a great night out, and it does get quite raucous at times!
The Giving Machine allows you to shop at all major retailers and at the same time generate a donation to the FOPS without any cost to you. Just follow the link and sign up, adding 'Petersfield' as your cause to support.
The FOPS have set up an online ticket office for you to buy your tickets to the wonderful events run throughout the year such as the 'Pop Up Circus'. Here you can pay with credit or debit card. Please visit our PTA Website to see what's on sale and find out about upcoming events.
Examples of how FOPS funds have been used:
To improve the school library
Support the cost of school trips
Fund Mathletics - the ever popular maths software that is used in school and can be accessed from home
Provide additional resources and equipment
If you would like to get involved in some way, send us suggestions or feedback, please email the PTA: petersfieldpta@hotmail.com.
Latest News
17th Jun - INSET day. School is closed to pupils, parents and visitors today as staff attend the training day. This is one of 5 required days set throughout the academic year. Please see the 'Term Dates' section of this website for next year's training dates.
14th Jun - We were delighted by the huge turnout of male carers who attended our Father's Day lunch and afternoon activities. It was wonderful seeing the children enjoying the company. The 'bee-related' activities mean the honey bees now have many homes!
14th Jun - Our 'Walk to School' week finished with the sun shining! Thank you to the volunteers who walked with us throughout the week. They enabled so many children and staff to have more exercise before the start of the school day.
12th Jun - Our year 4 pupils attended the first session of our new coding club, thanks to Mr Anderson and our parent volunteer. We look forward to seeing the outcome from all their new skills.
11th Jun - We were delighted to be joined by Bishop Stephen, Beverley from Age UK and many members of the community to celebrate the work of our Lent Challenge. Bishop Stephen led collective worship, was given a tour of our school by the pupils than had a cup of tea with the Petersfield Community.
11th Jun - Mrs Penrose was joined by a County representative for a bus ride along today. The positive comments about the bus escort and children were a delight to hear.
10th Jun - Well done to all those who joined us to walk to school, despite the weather, as we started Walk to School Week.
9th Jun - Thanks to parents, governors, pupils, staff and the community, our Sensory Garden looked amazing following the final touches and the addition of our pupils' sculptures. Ice-creams added to the enjoyment and we were delighted to welcome so many people in as part of Orwell Open Gardenss.
7th Jun - It was, once again, a delight to see the incredible variety of learning that had taken place over the half term. Rainforests, quizzes, home-made clocks, dazzling artwork and so much more!! Thank you to the parents who came to see and hear about the learning.
6th Jun - Some pupils in KS2 took part in an inter-school 'Quad Kids'. They enjoyed this event and worked well together.
6th Jun - Well done to the pupils who took part in the Maths Challenge in Cambridge. They demonstrated their amazing fluency and reasoning skills.
6th Jun - We were absolutely delighted to welcome all of KS2 from Barrington and Foxton to our BFP Healthy Minds and Healthy Bodies Oracy day. What a showcase of oracy skills with new friends!
3rd Jun - Welcome back to the first day of the busy, exciting and final half term of the 18-19 academic year.
24th May - School is now closed. We wish all our children and their families a lovely half term break. Enjoy the sunshine and we look forward to welcoming you back into school on Monday 3rd June.
23rd May - Today, our Year 6 pupils had the wonderful opportunity to do practical scientific experiments with Claire from the Children Challenging Industry (CCI) programme (primary schools and science-based manufacturing companies working together) as part of the science curriculum.
22nd May - Wow year 2! You should be very proud of your attitude and achievement over the last two weeks as you have taken SATs in your stride showing all you have learnt. We are very proud of you!
21st May - Excellent fun in the river was had by all Rowan and Yes class at Stibbington!
17th May - We celebrated the pupils' varied achievements in assembly. All of year 6 achieved an award due to their hard work and positive attitude this week. Mr Hollands presented his cup to a child who demonstrated a great willingness to learn the piano and play in a band in the Rock Steady group.
16th May - Well done Year 6. SATs are done! You are a credit to yourself and Peterfield School!
Latest Publications
Notices