Admissions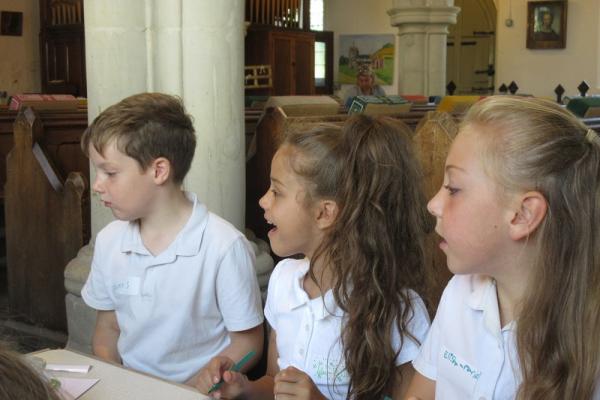 Petersfield Church of England Aided School is a Primary school of approximately 135 pupils from Reception to Year 6. Our Pupil Admission number (PAN) is 30 per year group making a total capacity of 210 pupils. Our cohorts vary in size each year so some year groups are approaching our maximum Pupil Admission Number whilst others are not.
All admission decisions, including children from outside the catchment area and in year admissions, are made following consultation with the Schools Admissions Department at Shire Hall, Cambridge. Our youngest pupils are admitted to Petersfield at the start of the academic year in which they turn 5 years old. Further advice can be found in the Cambridgeshire Admissions document.
Admission forms can be obtained from the school office, by calling the admissions office on 01223 699200/699662 or online at:

Cambridgeshire County Council's Primary School Admissions Page
The admissions deadline is usually the 15th January annually. County will publish updated admissions information for September 2020 in the Autumn term 2019.
Cambridgeshire County Council manages the school admissions process for children who live within, or are moving into Cambridgeshire for all maintained schools, including academies.
For more information, please read our admissions policy:
First Steps Admission to Primary School

First Steps Admission to Primary School
The document 'First Steps Admission to Primary School' will give you information about:
How to decide which school/s you would like to apply for
How to make your application for a primary school place
How places are offered if there are more applications than places available
What will happen if it is not possible to offer your child a place at school

Starting Primary School
The document 'Starting Primary School' explains how to apply for a primary school place if your child lives in Cambridgeshire.
Admission to Reception
We stagger the entry of our Reception pupils in Reception over several weeks as we believe it is beneficial to the children's emotional and academic progress. As we understand that all our pupils have differing needs and take differing amounts of time to settle, we work hard to ensure the provision is appropriate for all pupils by:
holding an open afternoon to enable prospective parents to visit the school in the Autumn term
host 'Stay and Play' after school sessions in the Autumn term for prospective parents and pupils
welcoming prospective parents and pupils into our school for a visits
building on our strong links with our neighboring preschools
writing to new parents following their acceptance of the offered place with details of our transition arrangements
welcoming new parents into school in June for an informative Open Evening where parents visit the classroom and meet the Headteachers and other key staff members
arranging visits for new reception pupils in the Summer term
inviting new pupils and parents to events such as the production, summer fayre and sports day
writing to new pupils over the summer holidays
visiting reception children in their own homes during the Summer term.
Admission at Other Times
We regularly welcome pupils into our school in other year groups and at other times of the year. We encourage a visit to the school at an early stage and the admissions form must be completed and returned to Cambridgeshires's Admissions Department. Staff and pupils and parents work together to ensure all new pupils and parents settle quickly by:
welcoming pupils and families into school
working closely with new pupils and their families to ensure their needs are met
buddying new pupils with experienced pupils
providing TA support to ensure that transition.

In Year Admissions
Is your child due to start school in September 2020?
If so we would like to invite you on a tour to see what our fantastic school has to offer! The tour will be taking place on Wednesday 4th December, at 9:15am, or contact the school office to make an alternative date.

School Tour Information
Latest News
18th Oct - School is now closed for the Half Term holiday, followed by the INSET training day for staff. School will reopen to pupils, parents and visitors on Tuesday 29th October. Happy Holidays!
18th Oct - The music from the Rock Steady pupils was truely inspirational! It was a fantastic way to end the half term.
18th Oct - We had an amazing Black History Celebration with Hollands' Cup and concert today. The pupils told us about the lives of Stevie Wonder, how Two Tone music started, we heard African drumming, a biography of Sheku Kanneh-Mason and music by Samuel Taylor Coleridge
17th Oct - Thank you to the parents who had their Parents' Evening appointments tonight. We value this dialogue as we plan for next half term and beyond.
17th Oct - A group of year 5 pupils went to Steeple Morden School today to participate in a workshop 'Creating characters for stage and page'. They said: 'It was good to think of our own characters and see how we could use these in our stories'.
17th Oct - As part of their local environment topic, Pine Class went to Wimpole today. 'We looked around the farm and we stroked the horses and ponies. After lunch we went on the adventure playground.'
16th Oct - Some year 6 pupils represented us at the County English Challenge. They won the certificate for knowing the most about David Walliams and Miss Way was proud of how they collaborated. 'They gave us questions about books and punctuation. It was fun because we got to work to together'.
15th Oct - Thanks to all the parents who attended Parents' Evening tonight. It was great to hear about the many successes shared and to continue to work together to support our pupils' next steps in learning.
15th Oct - Well done to the pupils who took part in the football competition today. They said 'The football tournament was great fun. We came 6th out of 12. In one game we won 6-0!'
14th Oct - As part of 'When Cambridgeshire Sings', Pine Class worked with an award winning folk band called the Young 'Uns to create, write and produce a song based on our local area. This will be published here once the editing process is complete!
11th Oct - Yew class held their cake sale today, raising funds for FOPS. Many delicious cakes were made, bought and eaten!
11th Oct - In assembly we discussed mental health, what it means and how we can keep ourselves mentally healthy as well as physically healthy.
11th Oct - Governors met the School Council today and talked to them about safeguarding, their views on the curriculum and what it is like to be a child at our school.
9th Oct - Our Running Track is finished and the children are so keen to run and to have the field back in use again tomorrow!
7th Oct - Thank you to the family members who joined our new EYFS pupils for the second of our family lunch sessions.
7th Oct - The teaching profession needs new recruits so we are delighted to be working with the Faculty of Education, Cambridge again this year. Welcome to our PGCE students!
Latest Publications
Notices