Admissions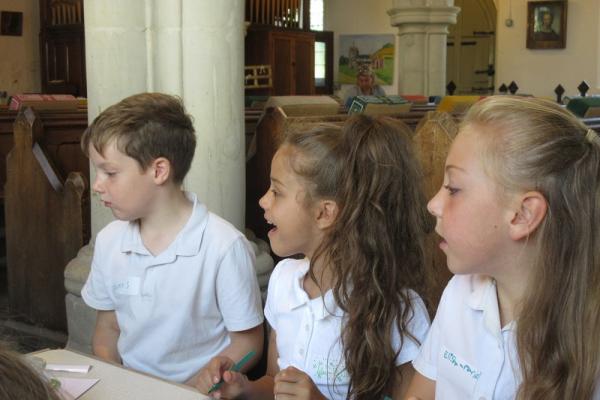 Petersfield Church of England Aided School is a Primary school of approximately 135 pupils from Reception to Year 6. Our Pupil Admission number (PAN) is 30 per year group making a total capacity of 210 pupils. Our cohorts vary in size each year so some year groups are approaching our maximum Pupil Admission Number whilst others are not.
All admission decisions, including children from outside the catchment area and in year admissions, are made following consultation with the Schools Admissions Department at Shire Hall, Cambridge. Our youngest pupils are admitted to Petersfield at the start of the academic year in which they turn 5 years old. Further advice can be found in the Cambridgeshire Admissions document.
Admission forms can be obtained from the school office, by calling the admissions office on 01223 699200/699662 or online at:

Cambridgeshire County Council's Primary School Admissions Page
The admissions deadline is usually the 15th January annually. County will publish updated admissions information for September 2019 in the Autumn term 2018.
Cambridgeshire County Council manages the school admissions process for children who live within, or are moving into Cambridgeshire for all maintained schools, including academies.
For more information, please read our admissions policy:
First Steps Admission to Primary School

First Steps Admission to Primary School
The document 'First Steps Admission to Primary School' will give you information about:
How to decide which school/s you would like to apply for
How to make your application for a primary school place
How places are offered if there are more applications than places available
What will happen if it is not possible to offer your child a place at school
Admission to Reception
We stagger the entry of our Reception pupils in Reception over several weeks as we believe it is beneficial to the children's emotional and academic progress. As we understand that all our pupils have differing needs and take differing amounts of time to settle, we work hard to ensure the provision is appropriate for all pupils by:
holding an open afternoon to enable prospective parents to visit the school in the Autumn term
host 'Stay and Play' after school sessions in the Autumn term for prospective parents and pupils
welcoming prospective parents and pupils into our school for a visits
building on our strong links with our neighboring preschools
writing to new parents following their acceptance of the offered place with details of our transition arrangements
welcoming new parents into school in June for an informative Open Evening where parents visit the classroom and meet the Headteachers and other key staff members
arranging visits for new reception pupils in the Summer term
inviting new pupils and parents to events such as the production, summer fayre and sports day
writing to new pupils over the summer holidays
visiting reception children in their own homes during the Summer term.
Admission at Other Times
We regularly welcome pupils into our school in other year groups and at other times of the year. We encourage a visit to the school at an early stage and the admissions form must be completed and returned to Cambridgeshires's Admissions Department. Staff and pupils and parents work together to ensure all new pupils and parents settle quickly by:
welcoming pupils and families into school
working closely with new pupils and their families to ensure their needs are met
buddying new pupils with experienced pupils
providing TA support to ensure that transition.

In Year Admissions
Latest News
14th Dec - We had a real treat, this afternoon, watching Divergent Drama's 'Cinderyeller'. Our pupils said: 'It was wonderful. When I grow up, I want to be an actor like them' and 'It inspired me to think that I might write a play'. Thank you to FOPS for providing the funds for this.
14th Dec - Two Governors visited school to discuss children's extended writing which is one of our school priorities. The pupils were able to talk about their learning using their oracy skills and share their learning in their books.
13th Dec - The final EYFS and KS1 performance was the very best! Wow!
12th Dec - The carols under the tree in Wimpole Stables were fabulous tonight. Thanks to Sandra at Wimpole, all those who attended - especially the children on the instruments - and to FOPS for the warm minced pies.
12th Dec - Thank you to all the parents and supporters who enjoyed the EYFS and KS1 performance today. We all agree it was fantastic!
12th Dec - Rowan class attended REActive Church today. Thank you so much to Rev Felicity and the volunteers for this season's sessions.
11th Dec - Elm and Ash class, your dress rehearsal was fantastic! Thank you for Mother Goose who joined us for this performance.
10th Dec - We were delighted to be invited to sing carols at the Methodist church. Thank you to Mr Holland for playing and for the display of Christmas trees, the train and lights.
7th Dec - Pine Class led a Roman Celebration of Learning assembly. They shared artwork, stories and poems and had a quiz on Roman numerals.
6th Dec - Today, Pine class enjoyed REActive Church.
5th Dec - GenR8 are visiting today to tell the Christmas story.
5th Dec - Thanks to Mrs Bonfield and our creative pupils, we now have a beautiful, hand made advent calendar in the hall.
4th Dec - Yew class attended REActive Church today as we prepare for Christmas.
3rd Dec - Thanks to FOPS for bringing that Christmas feel to Petersfield today with all the Christmas decorations. Don't forget the bauble competition to decorate the tree. Due Monday 17th December.
1st Dec - Join us today, 10am to 4pm, for the wonderful FOPS Christmas Fair. Christmas trees, Father Christmas, amazing stalls and delicious food are all available at the Lordsbridge Arena.
30th Nov - The Christingle was a beautiful service at church, the children looked in awe and wonder at the reflections from the light of the candle flames.
29th Nov - Following help from a large number of parents today, we now have our Christingles ready for tomorrow's church service.
23rd Nov - We were again delighted to welcome our EYFS parents into school today to share a lunch with our youngest pupils.
23rd Nov - Our pupils shared what they had learnt in Road Safety week. The youngest pupils told us to stop, listen and think and Elm class shared these words in Spanish. KS2 completed a traffic survey, discussed the pros and cons of walking home alone and discussed road safety.
22nd Nov - Well done to all the KS2 cross country runners who participated in the event today. We were impressed by your perseverance.
Latest Publications
Notices