Artsmark
Artsmark Silver Award

We are delighted that we have been awarded the Silver Artsmark from the Arts Council. This is a prestigious award which reflects the work we have been doing over the past two years.
We submitted a Statement of Commitment and a Case Study/Statement of Impact to the Arts Council which were assessed.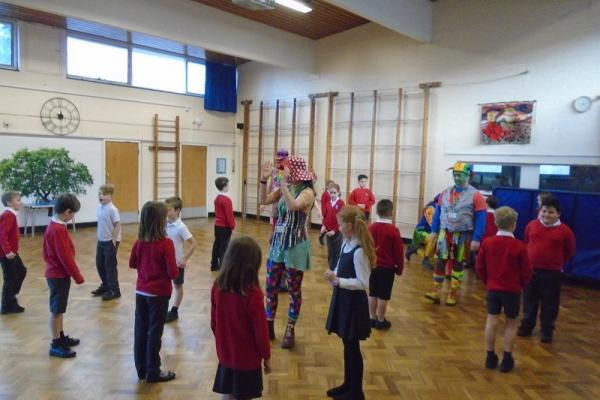 The following comments were made about our submissions:
You have made a good start to your Artsmark journey by upskilling staff and linking the Arts with other subjects such as Writing, History, Geography and PSHE. Your focus on artworks and religious beliefs is giving your pupils authentic opportunities to be exposed to a range of artworks. Art is noted a strength and is being taught by a specialist teacher who has introduced skills progression in art to monitor the progress being made. You have demonstrated that consistent arts and cultural experiences have been developed for your pupils such as the Lunch Time Club led by a local author, Ute Sproulle who runs a creative writing and reading club. You have ensured that all your pupils have opportunities to listen to live music. Congratulations on your Artsmark Silver Award!
Our next steps:
To make further progress in your Artsmark journey, you could develop pupil voice by involving them in planning and delivering authentic arts and cultural experiences. Building on your work of upskilling your staff, you might also want to explore opportunities to work in partnership with arts and cultural organisations and professionals to further develop your staff's knowledge, skills and understanding of delivering high quality arts and cultural provision which could have positive impact on not only your staff but, also on outcome for your pupils.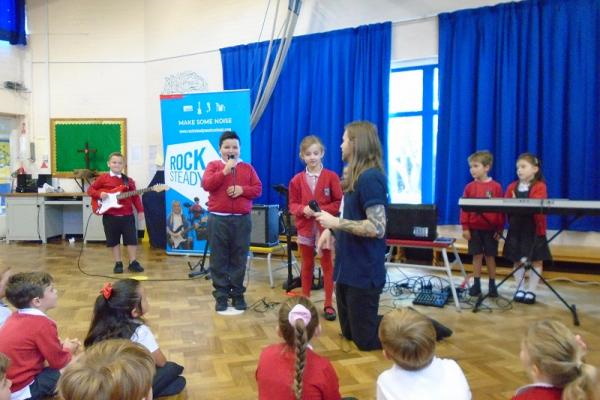 Please do look at our Events page for regular updates about the exciting things happening at Petersfield. Some of the activities we are most proud of include:
Appointing a curriculum champion, Ms Kate Catchpole
Upskilling staff and using subject specialists, eg Mrs Williams, art specialist
Developing our curriculum to ensure there are more opportunities for the arts for all pupils, eg drama workshops from Divergent Drama, music tuition from Rock Steady (children play a different instruments in a band, e.g. electric guitar, drums, keyboard)
Using pupil and parent voice to inform decisions
Having a wider choice of extra-curricular opportunities, e.g. sewing club with Mrs Bonfield, knitting for the Lent Challenge and dance club with Sharon Glasgow
Latest News
18th Oct - School is now closed for the Half Term holiday, followed by the INSET training day for staff. School will reopen to pupils, parents and visitors on Tuesday 29th October. Happy Holidays!
18th Oct - The music from the Rock Steady pupils was truely inspirational! It was a fantastic way to end the half term.
18th Oct - We had an amazing Black History Celebration with Hollands' Cup and concert today. The pupils told us about the lives of Stevie Wonder, how Two Tone music started, we heard African drumming, a biography of Sheku Kanneh-Mason and music by Samuel Taylor Coleridge
17th Oct - Thank you to the parents who had their Parents' Evening appointments tonight. We value this dialogue as we plan for next half term and beyond.
17th Oct - A group of year 5 pupils went to Steeple Morden School today to participate in a workshop 'Creating characters for stage and page'. They said: 'It was good to think of our own characters and see how we could use these in our stories'.
17th Oct - As part of their local environment topic, Pine Class went to Wimpole today. 'We looked around the farm and we stroked the horses and ponies. After lunch we went on the adventure playground.'
16th Oct - Some year 6 pupils represented us at the County English Challenge. They won the certificate for knowing the most about David Walliams and Miss Way was proud of how they collaborated. 'They gave us questions about books and punctuation. It was fun because we got to work to together'.
15th Oct - Thanks to all the parents who attended Parents' Evening tonight. It was great to hear about the many successes shared and to continue to work together to support our pupils' next steps in learning.
15th Oct - Well done to the pupils who took part in the football competition today. They said 'The football tournament was great fun. We came 6th out of 12. In one game we won 6-0!'
14th Oct - As part of 'When Cambridgeshire Sings', Pine Class worked with an award winning folk band called the Young 'Uns to create, write and produce a song based on our local area. This will be published here once the editing process is complete!
11th Oct - Yew class held their cake sale today, raising funds for FOPS. Many delicious cakes were made, bought and eaten!
11th Oct - In assembly we discussed mental health, what it means and how we can keep ourselves mentally healthy as well as physically healthy.
11th Oct - Governors met the School Council today and talked to them about safeguarding, their views on the curriculum and what it is like to be a child at our school.
9th Oct - Our Running Track is finished and the children are so keen to run and to have the field back in use again tomorrow!
7th Oct - Thank you to the family members who joined our new EYFS pupils for the second of our family lunch sessions.
7th Oct - The teaching profession needs new recruits so we are delighted to be working with the Faculty of Education, Cambridge again this year. Welcome to our PGCE students!
Latest Publications
Notices