Maths
We provide a comprehensive and engaging mathematics programme which follows the current Statutory Orders of the National Curriculum whilst also promoting the individual needs of our pupils. Pupils embed the 'non-negotiable' building blocks for maths as early as possible. Fluency, problem solving and reasoning are encouraged at all levels.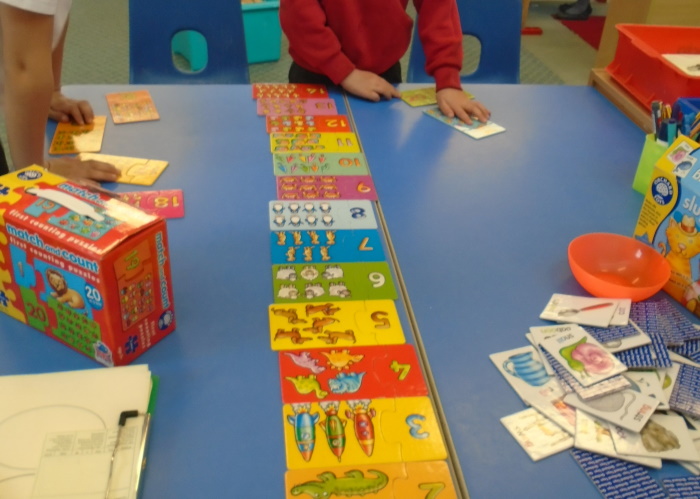 The four operations (addition, subtraction, multiplication and division) are taught incrementally so that a coherent approach is adopted throughout the school. The steps we use are detailed in our Calculation Policy. We acknowledge, however, the pupils all have preferred methods and make apparatus available in every classroom so that the pupils can access it to help themselves when and where they feel the need.
In Key Stage 1 we focus on number bonds, times tables knowledge and problem solving. Pupils develop confidence with our number system, learn about shapes, and use a variety of measures including length, mass, volume, time and money.
In Key Stage 2 we show our pupils how they can apply their existing knowledge to bigger (or smaller) or more difficult problems. We teach number and place value, the four operations, fractions, measures, geometry and statistics in progressive steps. The more complicated elements, such as percentages, ratio and simple algebra are taught in upper Key Stage 2, once the mathematical building blocks are secure.
Across the whole school we use Mathletics to reinforce topics taught in class and to encourage fluency.
We have made a significant investment to refresh our mathematics curriculum in line with the new National Curriculum. This included working closely with our Maths Adviser and purchasing practical maths resources for all classrooms. We are grateful to the Thomas McGregor Foundation for their donation towards this. In 2019/20, maths is again one of our key priorities, building on the successful fluency focus in 18/19.
Latest News
For more information on Covid-19, please visit the 'Covid-19' page under the 'Classes' drop down menu for regular updates, videos and resources.
19th June - School is closed to pupils, parents and visitors today for staff training on our planned INSET day. We look forward to receiving your work, pictures and emails about your learning today.
3rd June - Another fantastic start to the day. Well done everyone! If you are not in school, look out for the email with another story in today. If you want to send us a story you have read, we look forward to hearing it.
2nd June - We are absolutely delighted to see more parents and pupils today as we open to all keyworkers in all year groups. Every single person came in with a smile on their face and has quickly adapted to the changes. The socialising and learning has been a pleasure to see. Well done everyone.
1st June - Welcome back to Summer Half Term 2. Whilst is is very different to normal, it is great to see a few children in school today and taken the changes in their stride. For those children back in school, we are ringing you! Please listen our for our call!
16th April - This is 'National Offer Day' for new EYFS pupils due to join us in reception in September 2020. Welcome! Despite it not being in term time, please do email the office to accept your place. We look forward to responding to you with our transition plan after the Easter closure.
Latest Publications
Notices