School History
Petersfield Church of England (Aided) Primary School was officially opened on 22nd June 1962. Until that time, primary school aged children had been educated nearby in small village schools. However, by the 1950s numbers of pupils in many of these schools had fallen below sustainable levels and so the local authority began to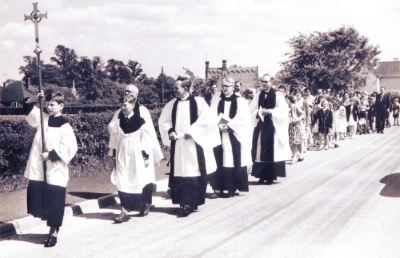 explore the possibilities for consolidating the small village schools into one larger school, which could serve the whole area. As all but one of these schools were church-run schools, the Diocese of Ely, as well as the Cambridge Education Committee, were involved in the discussions.
After three years of negotiations, a suitable site for the new school was eventually found on Hurdleditch Road in Orwell. The land was purchased from Mr H.G Peters, of Manor Farm, Orwell. The land had been known locally as 'Greenbridge Meadow', but it is from Mr Peters that the school gets its name - Petersfield.
The construction of the new school building began in 1960. The Archdeacon of Ely led a service of dedication at the site, and Mrs Bambridge of Wimpole Hall planted a commemorative tree, which still grows with vigour outside what is now the head teacher's office.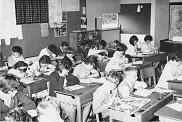 The first head teacher of the school was Mr Basil Waterton. A former naval serviceman, Mr Waterton came to the school from a deputy headship in Buckinghamshire, and was to remain at the school for twenty five years. He was succeeded as head teacher in 1986 by Mrs Barbara Radcliff.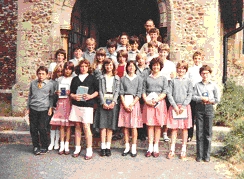 The school serves six South Cambridgeshire villages. Initially, the school would serve the villages of Orwell, Wimpole, Whaddon, Arrington and Croydon. A few years later, the school was pleased to welcome the children of Tadlow as well.
Petersfield has a special place in the community and is proud of its long tradition of excellence, innovation and service. We estimate that over 2,500 pupils have passed through our school since it opened in 1962. During our 50th anniversary year in 2012, the school's History Wall project was established to tell the school's story from its earliest beginnings to the modern day. The History Wall was unveiled on 19 May 2012 and celebrates the school's many successes and milestones over the years including: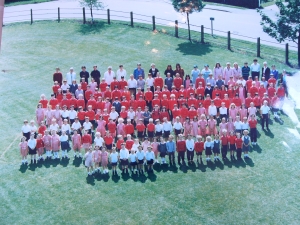 the school's official opening in 1962, followed quickly by ...
the worst winter since 1740!
the formation of our PTA (formally the 'Friends of Petersfield')
the opening of the school's first swimming pool (originally outdoor and unheated!)
Petersfield's first television
watching the first moon landing in the school hall
the arrival of Petersfield's first computer
our special relationship with the Wimpole Estate
sporting successes
music and dance performances
educational, cultural and environmental awards
a national History Association Award for our documentary 'Following Faded Footsteps'
the opening of the school's 'Growzone'
and much, much more.
We were thrilled with the community response to our History Wall project and since have published a colourful book entitled 'Petersfield: A Celebration of 50 Years of Success in Learning' which contains a wealth of information about the history of our school. If you would like to receive a copy, please contact us.
Latest News
20th Mar - Thank you to all those parents who attended tonight's Parents' Evening. We very much appreciate you taking the time to fill out our questionnaires and speak to Governors. Please do contact school if you have not yet arranged your appointment as this close home school liaison is vital.
20th Mar - Puffins pupils were delighted to received their morse code certificate today thanks to our local experts Peter, Martin and Eric. Puffins are very much looking forward to the 'advanced' session next.
20th Mar - Thank to Rev Felicity for supporting the pupils who led our collective worship today.
16th Mar - It is always a pleasure to hear about the learning successes of our pupils in the Hedteachers' Awards assembly.
16th Mar - Rev. Felicity joined pupils to collaboratively plan our Lent church service which we hope you can join us at. The service is at 9:30am on Wednesday 28th March.
16th Mar - We were delighted to welcome Mrs Murfet into school to lead science activities with science club and two classes as part of British Science week. Exciting activities included lava lamps, George's marvelous medicine and rainbows!
16th Mar - Yew class participated in REactive Church today. Thank you to volunteers who make this possible.
14th Mar - Thank to Pine class and the school community for making the FOPS Pine cake sale such a fundraising success whilst enjoying tasty treats!
14th Mar - It was wonderful to welcome Mrs Bonfield back into school today to launch our handmade values bears. We are very grateful for her skill and time to make these for us. They are a beautiful replacement for the much loved values dolls which represented the old school values.
14th Mar - Rowan class attended the first of the REactive Church sessions as we prepare for Easter.
12th Mar - We were delighted to welcome Andy Richardson, from local business Volac, into school today to view Clicker7 and talk to the pupils about it. We are incredibly grateful to Volac for purchasing this fantastic educational software that can be used to support learning at home and school.
9th Mar - We were delighted to have so many mothers and female carers in school for lunch and Mother's Day activities. Pupils worked with their mums and grannies to make bridges, plaques, towers and also took part in a scavenger hunt!
9th Mar - In our Elm Class assembly, they shared their learning about Great Britain through artwork, oracy, music, songs and a wonderful retelling of the Feeding of the 5000 Bible story.
7th Mar - Pine Class walked up to Wimpole Hall Farm as part of their 'United Kingdom' topic focusing on their local area. Whilst there, they took part in an activity making butter in the Victorian dairy.
5th Mar - Mrs Grieves launched 'Malawi Monday' our fundraising challenge to cover her giant map of Malawi in donated coins. These funds will be taken to Malawi in August 2018 to continue the charity work of providing useable school building and resources for children to learn in.
Latest Publications
Notices