Vision, Aims and Values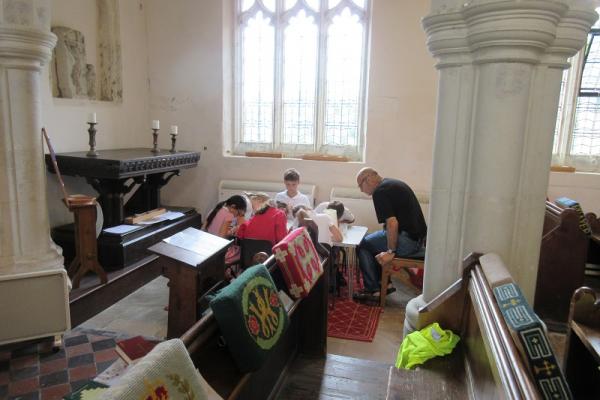 Our Vision
We are a small rural school with deeply held Christian values which motivate and inspire us to provide a rich and diverse education.
Our Values
Our deeply held Christian values motivate and inspire us to provide a rich and diverse education, while specific values teach us peace, trust, friendship, creativity and love, providing a truly Christian environment in which to learn.
Love: 1 Corinthians 13 4-7 "Love is patient, love is kind. It does not envy, it does not boast, it is not proud. It does not dishonour others, it is not self-seeking, it is not easily angered, it keeps no record of wrongs. Love does not delight in evil but rejoices with the truth. It always protects, always trusts, always hopes, and always perseveres".
The Christian value of love should be fundamental in all we do. We aspire to this value being woven into the fabric of life at our school. It is integral in all our decision-making. This equips our children for all aspects in life, as they grow and reach their full potential.
Trust: Isaiah 26:v4 "Trust in the LORD forever, for the LORD, the LORD himself, is the Rock eternal."
Our Christian value of Trust encourages the whole school to work together for the mutual benefit of all, promoting an excellent working relationship trusting in God as our rock.
Peace: Thessalonians 5:v13 "Live in peace with each other".
Peace is a Christian value that helps us to respect each other, recognising all opinions and giving us a firm framework for life, and tolerance in school, the wider community and the world. We aspire to embed this value throughout the school in order to provide a safe and inclusive learning environment that encourages discussion of all ideas, so promoting a deeper understanding of each other and the wider world.
Friendship: Luke 6:31 "Do to others as you would have them do to you".
At Petersfield we value and understand the importance of friendship in all areas of our school community. We constantly strive to build and foster the positive relationships that make and promote good friendships so providing a safe and caring environment in which to learn.
Creativity: Romans 12:6 "We have different gifts, according to the grace given to each of us."
We strongly believe that each one of us has a unique talent, we all have inherent creativity, and we actively encourage this in all aspects of learning and school life. We celebrate all achievements rejoicing in the diversity and individuality of our pupils.
At Petersfield all staff and Governors subscribe to our school vision to inspire confident learners who will thrive in a changing world by:
Recognising the potential of every individual to achieve excellence, positively addressing underachievement.
Providing access to outstanding teaching, a range of excellent resources and an exciting, broad, balanced, enriched curriculum.
Providing a welcoming, calm, happy, purposeful, and nurturing community.
Developing self-motivation, independence, positive attitudes and confidence.
Providing a learning environment that is attractive, stimulating, informative and that instils a sense of pride.
Providing a high-quality education within a Christian context for pupils living within the parish boundaries of Arrington, Croydon, Orwell, Tadlow, Wimpole and Whaddon, and also for pupils from a wider area on religious grounds.
Promoting the values of: Respect, Friendship, Courage, Inspiration, Equality, Excellence and Determination.
In order to meet our vision, staff and the Governing Body agreed the following aims:
To ensure that every member of our community experiences a safe, happy environment based on the teachings of Jesus, which are love and forgiveness.
To foster confidence, responsibility and self esteem in each individual so that they can make good independent choices and contribute fully to the school and community.
To address all learning needs to develop each individual's full potential.
To engender a lifelong enjoyment of learning through the delivery of a broad and lively curriculum.
To prepare pupils to be good citizens in a diverse and rapidly changing multicultural world.
Our pupils considered the aims and the elected School Council decided to explain them in their own words.

Persevering in class
Education
Trusting all
Everyone matters
Respecting others
Safe in school
Friendship
Including everyone
Encourage
Loving God
Determination

Our School Motto is TEAM
Together
Everyone
Achieves
More
Our School Values are: love, friendship, creation, trust and peace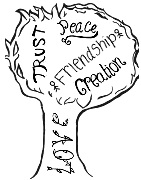 Latest News
For more information on Covid-19, please visit the 'Covid-19' page under the 'Classes' drop down menu for regular updates, videos and resources.
19th June - School is closed to pupils, parents and visitors today for staff training on our planned INSET day. We look forward to receiving your work, pictures and emails about your learning today.
3rd June - Another fantastic start to the day. Well done everyone! If you are not in school, look out for the email with another story in today. If you want to send us a story you have read, we look forward to hearing it.
2nd June - We are absolutely delighted to see more parents and pupils today as we open to all keyworkers in all year groups. Every single person came in with a smile on their face and has quickly adapted to the changes. The socialising and learning has been a pleasure to see. Well done everyone.
1st June - Welcome back to Summer Half Term 2. Whilst is is very different to normal, it is great to see a few children in school today and taken the changes in their stride. For those children back in school, we are ringing you! Please listen our for our call!
16th April - This is 'National Offer Day' for new EYFS pupils due to join us in reception in September 2020. Welcome! Despite it not being in term time, please do email the office to accept your place. We look forward to responding to you with our transition plan after the Easter closure.
Latest Publications
Notices