EYFS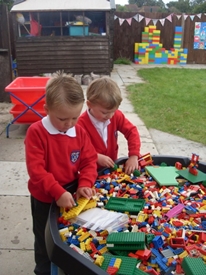 The Early Years Foundation Stage
We work closely with the local pre-schools and parents to assist us in identifying an accurate baseline and ensuring a smooth transition for all pupils starting school in Reception.
Our practise is largely informed by the Early Years Foundation Stage (EYFS) Framework which is adapted to meet the needs of each individual child. This is the statutory guidance on the standards that schools and childcare providers must meet for the learning, development and care of children under 5.
Planned, purposeful play is the foundation of development and learning for young children. It is the way skills are developed and practised. Children take part in a mix of child-initiated and adult led activities.
The curriculum is based upon 7 areas, 3 prime and 4 specific. The prime areas are Personal, Social and Emotional development, Physical Development and Communication and Language. The specific areas are Literacy, Mathematics, Understanding the World and Expressive Arts and Design.
Personal Social and Emotional Development
Making relationships
Self-confidence and self-awareness
Managing feelings and behaviours
Physical development
Moving and handling
Health and safety and care
Communication and Language
Listening and attention
Understanding
Speaking
Literacy
Maths
Numbers
Shape, space and measure
Understanding the World
People and communities
The world
Technology
Expressive Arts and Design
Exploring media and materials
Being imaginative
We assess children at the end of the Reception year against the Foundation stage profile. At the end of the year, progress and attainment will be reported to parents in an Early Years Foundation Stage report.
We develop children's characteristics of learning throughout the year using Growth Mindset characters. The characteristics of learning include:
Playing and Exploring - Finding out and exploring, Playing with what they know, Being willing to have a go.
Active Learning - Being involved and concentrating, Keeping trying, Enjoying achieving what they set out to do.
Creating and Thinking Critically - Having their own ideas, Making links, Choosing ways to do things.

EYFS Policy
Latest News
17th Sept - Thank you to FOPS for their tireless work to raise funds for Petersfield despite the current restrictions. At tonight's meeting, we planned the AGM which you can join from the comfort of your own home on Thursday 22nd October at 8pm. More information to follow in the newsletter.
17th Sept - It was great to see Rowan and Yew parents at tonight's curriculum sessions.
17th Sept - Well done to all those who have achieved their gold Mathletics certificates during Lockdown and the summer. After celebrating the bronze and silver awards over the last two weeks, we enjoyed congratulating our gold certificate mathematicians today.
16th Sept - Thanks to the Ash parents who attended today's curriculum session.
15th Sept - Many thanks to Elm and Pine class parents who joined us for the first two virtual Curriculum Sessions. Thank you for the questions - all of this helps us work together as we establish a new 'normal' where parent-school partnership is as important as ever.
14th Sept - Well done reception - you are doing such a good job of saying for the morning this week. Super smiles and great learning all round!
Latest Publications
Notices