FOPS (PTA)
Parent Teachers Association
Petersfield FOPS is a well-established partnership between parents, teachers and the local community that aims to strengthen the school community and raise funds. Money raised by FOPS is to fund the 'extras' that the school would not otherwise be able to provide. Decisions about what to fund are made each year by the FOPS committee with input and requests from parents and teachers alike.
Join us for the virtual AGM – 22nd October, 8pm - from the comfort of your home!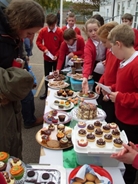 Regular FOPS events through out the school year include:
Fireworks night - a night of fun and fireworks for the whole family offering a good-value night with BBQ, Glosticks, mulled wine and hot chocolate, sweets and more! We look forward to this event returning in 2021.
The Christmas Fair - a chance for the children to share the excitement of Christmas with a cake stall, teas and coffees, secret presents, a raffle, tombola, and games stalls. Again, we look forward to this event returning in 2021.
Schools Discos - Key stage 1 and 2 discos held each term as a chance for pupils to get together with their friends and have fun. We sell sweets and drinks, do face-painting, temporary tattoos and nails.
RUN ORWELL – For 2020, this is now a virtual event and can be completed any time this calendar year. You can still register until the end of the year! Visitwww.runorwell.com for more information.
Cake stalls - organised by the pupils and held once a half term hosted by each class in turn. It is a great way for pupils and parents to get involved as they help sell the cakes to the rest of the school and other parents.
Quiz nights - a great night out, and it does get quite raucous at times!
Visit www.friendsofpetersfield.comto find out more.
The Giving Machine allows you to shop at all major retailers and at the same time generate a donation to the FOPS without any cost to you. Just follow the link and sign up, adding 'Petersfield' as your cause to support.
The FOPS have set up an online ticket office for you to buy your tickets to the wonderful events run throughout the year such as the 'Pop Up Circus'. Here you can pay with credit or debit card. Please visit our PTA Website to see what's on sale and find out about upcoming events.
Examples of how FOPS funds have been used:
To improve the school library
Fund Reading Eggs – a fantastic reading resource and access to lessons and hundreds of online reading books
Support the cost of school trips
Fund Mathletics - the ever popular maths software that is used in school and can be accessed from home
Provide additional resources and equipment
If you would like to get involved in some way, send us suggestions or feedback, please email the PTA: petersfieldpta@hotmail.com.
Latest News
25th Jan - Petersfield Press has been sent as an email today! There are a number of important updates. Please do read all about it!
25th Jan - Snow fall varied across the County yesterday but thanks to school staff and transport providers we're still open to critical workers' children today despite the difficult road conditions. Remember, lots of learning and fun can take place with snow and ice! Stay safe and warm!
22nd Jan - It is ironic that after our meetings yesterday to review our phone contract and the due replacement, our phone line crackled then stopped working today. Apologies. Please email the office or class teachers if you need us pending BT fixing this fault again. Sorry for the inconvenience!
22nd Jan - Governors met virtually today to review our current position. They joined us in expressing thanks and admiration for the tremendous job pupils, parents and staff are doing to support Remote Learning. Well done everyone!
21st Jan - Today we virtually welcomed our County Primary Advisor to review our Remote Learning Offer. She endorsed the positive praise received from pupils and parents as we discussed what's working well, the positive impact of your feedback and our plans as we continue to support every pupil.
19th Jan - Petersfield Press has been sent as an email today for this week. Please do read all the latest updates.
19th Jan - For those in receipt of Free School Meals, your voucher should have arrived today. Please do look out for the email as it probably arrived in your inbox in the early hours of this morning.
14th Jan - Petersfield Press is again just an email today. Please do read this important information and if you are in receipt of Free School Meals, please respond to the question asked. Thank you!
13th Jan - Thank you to those of you who joined our GenR8 Collective Worship today.
13th Jan - Apologies, the broadband locally appears to be struggling - the issues started at the end of the day yesterday. We are looking to see if there is anything we can do, such as turning off cameras, which can help in the short term.
12th Jan - If you want to read again about our Remote Learning offer, the Policy is on the Covid page under 'Classes'. The explanation email (sent on the 5th Jan 2021) has been added to the appendices. Look out for further emails as we all work together to further refine our offer.
12th Jan - Today in Collective Worship, we continued exploring how we can take time to reflect and how this links to the 4 aspects of prayer we learnt about about before Christmas. Thank you to all those who joined today. Great reflection sharing!
11th Jan - Welcome back to our first full week of remote learning. Great job everyone! If you have not yet completed our laptop survey, please do or email us.
Latest Publications
Notices