Admissions
If you are looking for a fantastic village school that nurtures and inspires pupils form 4 to 11 years old, you've come to the right website!
Each year we welcome our fantastic new EYFS pupils into their reception year in the September before they become 5.
We regularly welcome children into other school years and it is a pleasure to see them settle in, learn and make friends at our school.
Whilst Covid-19 restrictions mean we have changed our procedures to keep our school community as safe as it can be, so we are not hosting visits at this time, we would love to talk to you on the phone and look forward to some virtual events later in the year.
Mrs Peachey is our EYFS lead and Co-Head with Mrs Penrose. We, and the school team, look forward to meeting you.
If you are looking to join our school, please do email us at office@petersfield.cambs.sch.uk We look forward to speaking to you soon!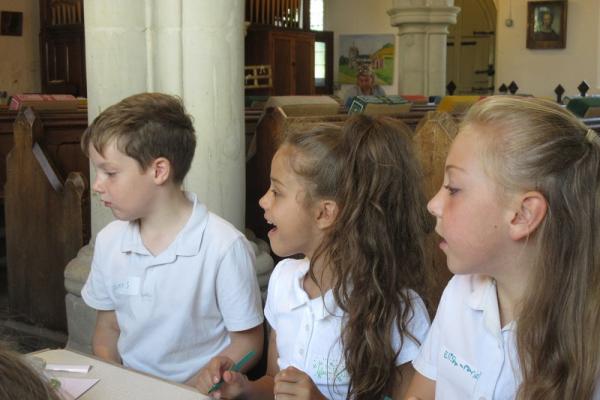 Petersfield Church of England Aided School is a Primary school of approximately 110 pupils from Reception to Year 6. Our Pupil Admission number (PAN) is 30 per year group making a total capacity of 210 pupils. Our cohorts vary in size each year so some year groups are approaching our maximum Pupil Admission Number whilst others are not.
All admission decisions, including children from outside the catchment area and in year admissions, are made following consultation with the Schools Admissions Department, Cambridge. Our youngest pupils are admitted to Petersfield at the start of the academic year in which they turn 5 years old. Further advice can be found in the Cambridgeshire Admissions document.
Admission forms can be obtained from the school office, by calling the admissions office on 01223 699200/699662 or online at:

Cambridgeshire County Council's Primary School Admissions Page
The admissions deadline is the 15th January annually. County publish updated admissions information for the following September in the autumn term before.
Cambridgeshire County Council manages the school admissions process for children who live within, or are moving into Cambridgeshire for all maintained schools, including academies.
For more information, please read our admissions policy:
First Steps Admission to Primary School

First Steps Admission to Primary School
The document 'First Steps Admission to Primary School' be updated as soon as we have the 2021 document. However, the current version will give you information about:
How to decide which school/s you would like to apply for
How to make your application for a primary school place
How places are offered if there are more applications than places available
What will happen if it is not possible to offer your child a place at school

Starting Primary School
The document 'Starting Primary School' explains how to apply for a primary school place if your child lives in Cambridgeshire.
Admission to Reception
We stagger the entry of our Reception pupils in Reception over several weeks as we believe it is beneficial to the children's emotional and academic progress. As we understand that all our pupils have differing needs and take differing amounts of time to settle, we work hard to ensure the provision is appropriate for all pupils. This year, we are not able to hold all the of usual events as normal, but we have quickly adapted to virtual sessions. Pre Covid-19, the expected format was as listed below. We hope to return to in person events as soon as we are able. In the meantime, please do contact us to arrange a conversation. Our usual offer includes:
holding an open afternoon to enable prospective parents to visit the school in the Autumn term
host 'Stay and Play' after school sessions in the Autumn term for prospective parents and pupils
welcoming prospective parents and pupils into our school for a visits
building on our strong links with our neighboring preschools
writing to new parents following their acceptance of the offered place with details of our transition arrangements
welcoming new parents into school in June for an informative Open Evening where parents visit the classroom and meet the Headteachers and other key staff members
arranging visits for new reception pupils in the Summer term
inviting new pupils and parents to events such as the production, summer fayre and sports day
writing to new pupils over the summer holidays
visiting reception children in their own homes during the Summer term.
Admission at Other Times
We regularly welcome children into school into year groups other than reception. If you are looking to join us in Year 1 to Year 6, please get in touch to talk about our wonderful school offer and confirm the space we have in each year group. Many thanks.

In Year Admissions
Support Applying for a Secondary School Place for year 6 pupils
Is your child due to start school in September 2021?
If so we would like to invite you to contact us to see what our fantastic school has to offer! Please contact the school office to make an appointment.
Latest News
3rd Dec - The final word has been penned in our entries to the 100 word creative writing competition titled 'A Wander in the Woods' written in class this week.
1st Dec - Thank you to Rev Felicity for joining us on our Understanding Christianity Day. It was great to hear the super questions and reflections as the children considered the Christmas story.
1st Dec - Christmas has come to Petersfield! Well done to the first Elm class recipient of a card celebrating a success of the day through advent.
27th Nov - Well done to everyone for being super Run Orwell Lap-athon participants. Medals are coming home over the next few days. We are very proud of the children for their participation in the sports activity and the fantastic fundraising.
23rd Nov - Following our Historic England Heritage Schools accreditation, staff were delighted to spend a twilight training session exploring the local area history and geography research completed for us. We look forward to sharing the resulting fantastic resources and projects with the children.
23rd Nov - Ready, Steady, Go! Each class will participate in our Run Orwell sponsored Lapathon challenge during a session this week.
19th Nov - Road safety is always important but it is especially important as the nights are darker. Children shared this week's learning today.
18th Nov - Smile! It is photo day today!
18th Nov - Thanks to Rowan class for leading our first ever virtual class assembly. What a triumph! Parent and pupil feedback agrees! Rowan class agree 'I really enjoyed the kennings poem and holding up the words. I enjoyed the square number song. I loved the cardio drumming as it was different.'
13th Nov - We are pleased to have raised £124.65 today, thanks to our non uniform day for Children In Need.
11th Nov - The decorated stones provided a focus for reflection today as we raised £73.50 with our Remembrance collection before our two minutes silence.
9th Nov - The nurses administering the flu vaccination were very impressed with our pupils today. We also had 100 percent attendance and administration of the vaccine for those booked to have it. Well done everyone!
5th Nov - Thank you to all the parents who joined us virtually for the Headteacher Awards. We are very proud of the children and enjoyed hearing about their great attitude to learning resulting in success.
3rd Nov - Welcome back to Autumn half term 2. We look forward to seeing you all this morning after the half term holiday. Please do read the 'Welcome back' email sent last night for the latest updates.
2nd Nov - Remote Learning planning featured on today's INSET day agenda.
23rd Oct - School is now closed for the autumn half term holiday. We look forward to welcoming pupils and parents back to school on Tuesday 3rd November after the INSET day. Happy holidays!
21st Oct - Today we are pleased to feature in the Cambridge Independent Newspaper with photos and an explanation about our positive mental health curriculum.
Latest Publications
Notices