Collective Worship
Collective worship (assembly) takes place every day in school and this lies at the heart of life in our school. We meet four times a week as a whole school and have class based worship on Wednesdays. Reverend Felicity Couch leads Collective Worship each Tuesday. Collective Worship themes are largely Christian in nature and include stories, drama, music, singing, poetry, reflection and prayer. We encourage our pupils to be part of our collective worship through planning, meeting with Revd Felicity, reading and writing prayers and playing music. We follow the pattern of the festivals and seasons of the Christian Year. On Mondays we hold choral worship. Singing is an important part of collective worship, and this is a chance to learn new songs, and revisit familiar ones, to reflect together on the way that we praise God in worship, and to understand better the words we are singing. On Thursday we celebrate what has been achieved in school (such as an announcement of the House Point totals for the week; a chance to celebrate and share the reasons for those children who have been awarded a Head Teacher Award, awarding of certificates for honours each term-sporting for example) and the half termly announcement of our music "Hollands Cup". The Thursday collective worship ends with a prayer led by a member of Year 6. On Friday, collective worship is a teacher led collective worship following the theme of the week, listening to a story from the Bible or considering a particular charity. Assemblies also provide opportunities for school news to be shared and discussed. Each school term concludes with a service in the church.
School Prayer
We start each collective worship with a lighting prayer and are currently working closely with our children to write a Petersfield prayer, which reflects our thoughts and values.
Church Links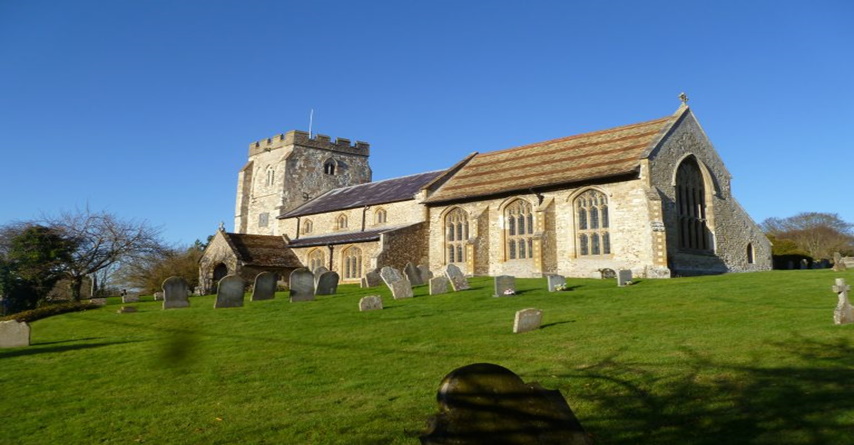 Petersfield Church of England (A) School has strong links with St Andrew's Church, Orwell (pictured above), which falls within the Diocese of Ely. We work closely with the church and diocese in a number of ways, including:
Collective Worship led by Reverend Felicity Couch
Key Stage 2 annual visits to Ely Cathedral
End of term services held in the church
Assemblies led by GenR8
Taking part in special services in the Church calendar, such as Harvest, Christingle and Easter
Special events to help us consider our core Christian Values
Visits to the church as part of RE and collective worship, for example REActive church.
Petersfield Church of England (A) Primary School Christian Values
We are proud of our school values and these underpin all we do in school. Our pupils demonstrate these values in all areas of school life. We worked together as a school to revise our school Christian values. All the children in school looked at eighteen different values and reflected on the meaning of each value and how they influence our behaviour. This work culminated in a whole school Christian values day. The children worked in buddy groups during the day so that the older children could support the younger ones and each group presented that value through dance, drama, poetry, artwork, etc to the whole school community. At the end of the day each adult and child in school cast three votes for the values that they felt were the most important in the life of our school. The values with the most votes became our new school values.
Love - Christian love is the overarching value in our school. We have an ethos of care and concern that helps us to support one another.
Friendship - we aim to include everyone and be loyal and supportive friends.
Trust - we trust each other and believe in the honesty and reliability of others.
Creativity - we value and celebrate new ideas and ways to express ourselves
Peace - we aim for inner peace; learning how to be calm and contented, coping with anxieties and fears, and also for peace between each other in school; making and keeping friends, sorting out arguments, making compromises, letting go of hostile feelings and learning how to listen to each other.
Latest News
23rd Oct - School is now closed for the autumn half term holiday. We look forward to welcoming pupils and parents back to school on Tuesday 3rd November after the INSET day. Happy holidays!
21st Oct - Today we are pleased to feature in the Cambridge Independent Newspaper with photos and an explanation about our positive mental health curriculum.
19th Oct - We had a great whole school RE day today building up our school journey of 'Understanding Christianity'. Our youngest children learnt about what makes us special and how Jesus is special to Christians. Our older children looked into the topic of what is the 'Good News' of the gospel.
16th Oct - Today, our pupils showcased their positive mental health work as a press photographer visited our school to take socially distanced pictures for the newspaper.
15th Oct - THANK YOU! to the parents who have donated slabs (and the time and effort to install them) to make entry to the school gate less muddy!
13th Oct - Despite to power cut, thank you to everyone who is joining us for the virtual Parents' Evening tonight!
12th Oct - Thanks to Pine class, we will now have on display posters to promote positive thinking including word-web phrases and images. They explored what 'Positive Thinking' means and how we can be more positive in our lives and with other people.
9th Oct - The virtual governor visit today was an opportunity to celebrate all the work we have done this week in conjunction with the YMCA and our cluster schools. Please do ask the children about what they have learnt and how together, we are all promoting positive mental health.
Latest Publications
Notices