How Can We Help
At Petersfield, we highly value our parent and community partnership. Together, we strive to provide the very best education possible for all our pupils.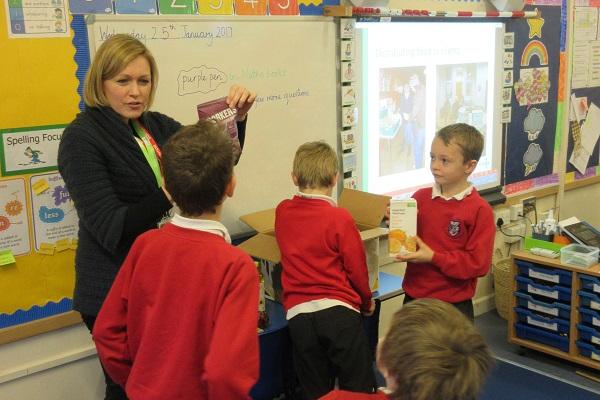 If you are unable to find out the information you require or answer your question from the information below, please do speak to Mrs Verity Wynn at the School Office - in person following the signs to the main entrance at the front of the building, by telephone: 01223 207382 or via email: office@petersfield.cambs.sch.uk) regarding any query about an aspect of school life.
Admissions information, regarding your child starting at our school, can be found here.
After talking to parents, Frequently Asked Questions about most aspects of school life have been answered in our Parent Information Pack. This can be found online here or as a paper copy in the school entrance.
Information on how we keep are children safe – in school, as individuals and online (E-Safety) - can be found under the 'Safeguarding' dropdown menu on our website or by clicking here.
Key policies can be found here. Summary leaflets explaining them can be found on the same webpage or as a paper copy in the school entrance.
Information on the school curriculum, including assessment can be found under the 'Curriculum' dropdown menu or by clicking here.
Term dates are published online and in the school entrance and on the playground notice board. A full list of calendar dates for each academic year is published in September annually and can be found in the entrance and playground or by clicking here.
Our attendance policy and summary leaflet can be found here. The leaflet is also available in the school entrance.
Should your child need medical support – short or long term – please click here to find out more. Our summary leaflet is available online and in the school entrance.
Uniform information is located here.
Information about school meals can be accessed here.
A link to our school milk provider can be found here.
Should you need to make an Online payment, you can log into ParentPay here.
If you are in receipt of certain benefits, your child may be entitled to Free School Meals and the Pupil Premium. If so, it is essential that you claim this financial support for your child and more information can be found here.
Information on Puffins, our Out of School Hours club, can be found here.
Want to find out more about school clubs? Click here.
More information on our fun and excellent fundraising PTA - FOPS can be found here.
Should you have a query about your child, your child's classteacher(s) is best placed to help.
Please do look at your child's website class page: Ash, Elm, Pine, Rowan and Yew to find updated information about the curriculum, homework and to see the pictures of the class at work.
Classteachers are available on the patio at the end of each day as they dismiss pupils. Please do speak to them once all the pupils have been discharged into the care of their parents/carers.
Alternatively, an appointment can be made by contacting the office.
Not sure who to talk to? Our staff and governors information detail who we are and what we do. A member of the Senior Leadership Team – usually the Headteachers – are available on the playground each morning and evening. Governors attend most of our school events and wear an orange lanyard. Their photos, and those of all our staff, are displayed in the school entrance. The contact address for our chair of Governors is via the clerk – clerk@petersfield.cambs.sch.uk
Mrs Penrose is our SENDCo (Special Educational Needs and Disabilities Coordinator and Inclusion teacher). She is usually available on the playground at the start of the school day and the patio at the end of the day on Monday and Tuesday or can be contacted via the office. Please do look at our SEND webpage to find out more about support at Petersfield and the County 'Local Offer'.
Mrs Penrose leads our pastoral and behavioural support. Our summary leaflet is available online and in the school entrance.
Should you remain unable to find the information you require or resolve any issues, please do make an appointment to speak to the Headteacher and we look forward to working together to resolve the matter.
If we remain unable to resolve matters, our formal complaints process is available here and on our policy page. Before the formal processes are invoked, every effort will be made to resolve matters informally with the relevant member of staff, Senior Leader, Headteacher or Governing Body. The formal Complaints Procedure will not normally be accessed unless the Headteacher has first been given the opportunity to discuss the matter with the complainant. This complaint should be made in writing using the formal School Complaints Form which is available here as a word document for completion.
Should you be unable to find what you are looking for, please do let us know when you contact school so we can update this information to help others.

Complaints Policy

COVID-19 Complaints Policy
Latest News
14th Jan - Petersfield Press is again just an email today. Please do read this important information and if you are in receipt of Free School Meals, please respond to the question asked. Thank you!
13th Jan - Thank you to those of you who joined our GenR8 Collective Worship today.
13th Jan - Apologies, the broadband locally appears to be struggling - the issues started at the end of the day yesterday. We are looking to see if there is anything we can do, such as turning off cameras, which can help in the short term.
12th Jan - If you want to read again about our Remote Learning offer, the Policy is on the Covid page under 'Classes'. The explanation email (sent on the 5th Jan 2021) has been added to the appendices. Look out for further emails as we all work together to further refine our offer.
12th Jan - Today in Collective Worship, we continued exploring how we can take time to reflect and how this links to the 4 aspects of prayer we learnt about about before Christmas. Thank you to all those who joined today. Great reflection sharing!
11th Jan - Welcome back to our first full week of remote learning. Great job everyone! If you have not yet completed our laptop survey, please do or email us.
7th Jan - Petersfield Press is an email with attachments rather than a .pdf document today. Don't forget to join us for Headteacher Awards at 1:10pm today!
6th Jan - What a super start to our Remote Learning. So many of you joined for the 3 live teaching sessions and submitted your work online. It was great to see so many faces at Collective Worship. Don't forget, you can contact your classteacher directly via their class email address if needed.
5th Jan - Thanks to everyone who joined our first live story times today. Great to see you! Tomorrow school is open to critical worker children who booked and cannot safely be kept at home. All the live lessons start tomorrow. Parents should have received an email today ready for this.
5th Jan - school is CLOSED to all children today in line with County advice as we respond to last night's announcement and await further government guidance.
4th Jan - Following the government announcement at 8pm tonight, please see the urgent email sent to all parents.
4th Jan - Welcome to the spring term 2021. Staff training today. Please see the email sent to parents this afternoon about tomorrow's opening.
December 2020 - For those in need over Christmas, the Winter Grant Scheme is available and you can contact them for support by phone: 0345 045 5219.
22nd Dec - You can now visit the Orwell Benefice website to find out about the Stations of the Nativity and download a map. A link to this is also on our 'Church School' webpage (under the School Information drop down menu). How many can you find before the 6th January?
18th - 20th Dec - If your child develops symptoms of Covid before Sunday evening (20th) you must inform us immediately via the office email so we can undertake contact tracing.
18th Dec - School is now closed to pupils until Tuesday 5th January when we expect to reopen to children for the Spring Term.
18th Dec - Thank you for the good wishes and kind words. These mean a lot. We are SO proud of our school and everyone who has played their part in making the very best of a very challenging 2020. We wish you a happy and safe Christmas and very much look forward to 2021!
18th Dec - 'San-ta, San-ta' Father Christmas arrived on a horse drawn cart with a sack full of presents to MUCH excitement and chanting! Merry Christmas everyone!
18th Dec - Christmas party time everyone! Each bubble enjoyed festive jumpers and accessories and had lots of fun!
Latest Publications
Notices