How Can We Help
At Petersfield, we highly value our parent and community partnership. Together, we strive to provide the very best education possible for all our pupils.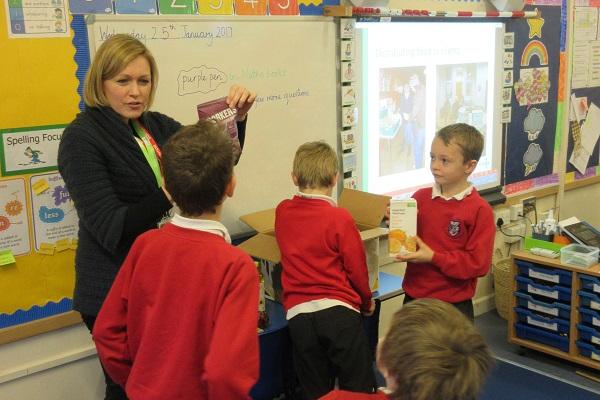 If you are unable to find out the information you require or answer your question from the information below, please do speak to Mrs Verity Wynn at the School Office - in person following the signs to the main entrance at the front of the building, by telephone: 01223 207382 or via email: office@petersfield.cambs.sch.uk) regarding any query about an aspect of school life.
Admissions information, regarding your child starting at our school, can be found here.
After talking to parents, Frequently Asked Questions about most aspects of school life have been answered in our Parent Information Pack. This can be found online here or as a paper copy in the school entrance.
Information on how we keep are children safe – in school, as individuals and online (E-Safety) - can be found under the 'Safeguarding' dropdown menu on our website or by clicking here.
Key policies can be found here. Summary leaflets explaining them can be found on the same webpage or as a paper copy in the school entrance.
Information on the school curriculum, including assessment can be found under the 'Curriculum' dropdown menu or by clicking here.
Term dates are published online and in the school entrance and on the playground notice board. A full list of calendar dates for each academic year is published in September annually and can be found in the entrance and playground or by clicking here.
Our attendance policy and summary leaflet can be found here. The leaflet is also available in the school entrance.
Should your child need medical support – short or long term – please click here to find out more. Our summary leaflet is available online and in the school entrance.
Uniform information is located here.
Information about school meals can be accessed here.
A link to our school milk provider can be found here.
Should you need to make an Online payment, you can log into ParentPay here.
If you are in receipt of certain benefits, your child may be entitled to Free School Meals and the Pupil Premium. If so, it is essential that you claim this financial support for your child and more information can be found here.
Information on Puffins, our Out of School Hours club, can be found here.
Want to find out more about school clubs? Click here.
More information on our fun and excellent fundraising PTA - FOPS can be found here.
Should you have a query about your child, your child's classteacher(s) is best placed to help.
Please do look at your child's website class page: Ash, Elm, Pine, Rowan and Yew to find updated information about the curriculum, homework and to see the pictures of the class at work.
Classteachers are available on the patio at the end of each day as they dismiss pupils. Please do speak to them once all the pupils have been discharged into the care of their parents/carers.
Alternatively, an appointment can be made by contacting the office.
Not sure who to talk to? Our staff and governors information detail who we are and what we do. A member of the Senior Leadership Team – usually the Headteachers – are available on the playground each morning and evening. Governors attend most of our school events and wear an orange lanyard. Their photos, and those of all our staff, are displayed in the school entrance. The contact address for our chair of Governors is via the clerk – clerk@petersfield.cambs.sch.uk
Mrs Penrose is our SENDCo (Special Educational Needs and Disabilities Coordinator and Inclusion teacher). She is usually available on the playground at the start of the school day and the patio at the end of the day on Monday and Tuesday or can be contacted via the office. Please do look at our SEND webpage to find out more about support at Petersfield and the County 'Local Offer'.
Mrs Penrose leads our pastoral and behavioural support. Our summary leaflet is available online and in the school entrance.
Should you remain unable to find the information you require or resolve any issues, please do make an appointment to speak to the Headteacher and we look forward to working together to resolve the matter.
If we remain unable to resolve matters, our formal complaints process is available here and on our policy page. Before the formal processes are invoked, every effort will be made to resolve matters informally with the relevant member of staff, Senior Leader, Headteacher or Governing Body. The formal Complaints Procedure will not normally be accessed unless the Headteacher has first been given the opportunity to discuss the matter with the complainant. This complaint should be made in writing using the formal School Complaints Form which is available here as a word document for completion.
Should you be unable to find what you are looking for, please do let us know when you contact school so we can update this information to help others.

Complaints Policy

COVID-19 Complaints Policy
Latest News
15th Apr - Well done to the well deserved winners of the Headteacher Awards and Hollands Cup presented virtually today. Thank you to family members who shared in these achievements with us.
13th Apr - Today, Rev Felicity led our service as we joined with Barrington School virtually. We reflected on a 'Life Well Lived' in our Collective Worship following the Death of HRH Duke of Edinburgh.
12th Apr - Welcome back to the Summer term! What a fantastic start to the term! Our children's enthusiasm for learning and seeing their peers is great to see.
30th Mar - We are pleased to report that the Track and Trace process for the end of the Spring term is now complete with no positive Covid cases to report. If you or your child now develops symptoms, please follow NHS Track and Trace. Happy Easter Everyone!
26th Mar - If anyone who has been in school develops symptoms or has a positive Covid test on Saturday 27th or Sunday 28th March, please notify school immediately via the office email. After this, please follow the newsletter instructions and follow NHS Track and Trace requirements.
26th Mar - School is now closed until Monday 12th April. Happy Easter!
26th Mar - There are lots of Easter trails and challenges taking place this Easter thanks to FOPS, St Andrews and the Methodist church. We look forward to seeing photos of your involvement. The paper copies of the FOPS trail and colouring competitions are in school bags today.
26th Mar - Thank you to Rev Felicity and Barrington School for sharing in today's Collective Worship. A silver lining of remote learning is the opportunity to join together virtually with ease as two schools for our Lent Service.
25th Mar - The Free School Meal vouchers for the Easter holidays will be emailed tomorrow to those eligible. If you think you may qualify, please do get in touch. Don't forget the Winter Grant is available to families in need. More information can be found with today's Petersfield Press email.
23rd Mar - Today at noon, each class took a minute to reflect on the impact of Covid, both in school and in the wider community, over the last year.
22nd Mar - Through drama and poetry, Elm class explored the parable of the Lost Sheep and related this to their class family. They reflected maturely on friendships in Elm class.
22nd Mar - Today on our Understanding Christianity Day, we were impressed by the confident use of the vocabulary children employed to explain their understanding of the story of Easter.
19th Mar - Today we raised funds for Red Nose Day. The wide range of Superhero costumes sparked debate about just how many superheros we know in our community.
12th Mar - Thank you so much to all the Mums who joined us virtually today. The lovely things the children said about you shows just how special you are!
10th Mar - 8:40pm We are pleased to report that the issue has now been resolved and so school is OPEN tomorrow. Thank you to pupils, parent and staff for your support and prompt action today.
10th Mar - 19:35pm We are still at school waiting for the plumbing issue to be resolved. We will update the website before we leave school tonight.
10th Mar - 1:02pm URGENT School must CLOSE due to a major issue with the plumbing. Anglian water are expected but in the interim school must close. Parents, please see the email and your urgent collection time for today.
8th Mar - The smiling, enthusiastic faces today of both pupils and staff made our day! Welcome back everyone!
5th Mar - Our final 'Petersfield Press' update of the week has been sent today as we prepare for all pupils' return on Monday. We are REALLY looking forward to seeing you all!
2nd March - As we further prepare for pupils' Monday 8th return, we have recorded another video for children and parents to share more information about the return. We have also sent the key information to parents in a 'Petersfield Press' email. Any questions, please do ask classteachers.
1st March - The first of several expected 'Petersfield Press' updates has been sent by email today to accompany the latest video update for pupils as we prepare for the full opening next week.
26th Feb - Petersfield Press has been sent by email this afternoon. There are lots of updates so please do read about next week and some full opening logistics detailed in the email.
24th Feb - Today we launched Bishop Stephen's Lent Challenge. Check out Mrs Wright's video to introduce the challenge. We look forward to learning with you over the next 5 weeks and receiving your response to the Bishop's challenge.
22nd Feb - Like you, we have listened to the Prime Minister's address to the Commons today. We will be in touch asap once we have have met with County. We will be asking for provisional Puffins bookings up until Easter for those who need this provision to be able to work.
Latest Publications
Notices