Maths
We provide a comprehensive and engaging mathematics programme which follows the current Statutory Orders of the National Curriculum whilst also promoting the individual needs of our pupils. Pupils embed the 'non-negotiable' building blocks for maths as early as possible. Fluency, problem solving and reasoning are encouraged at all levels.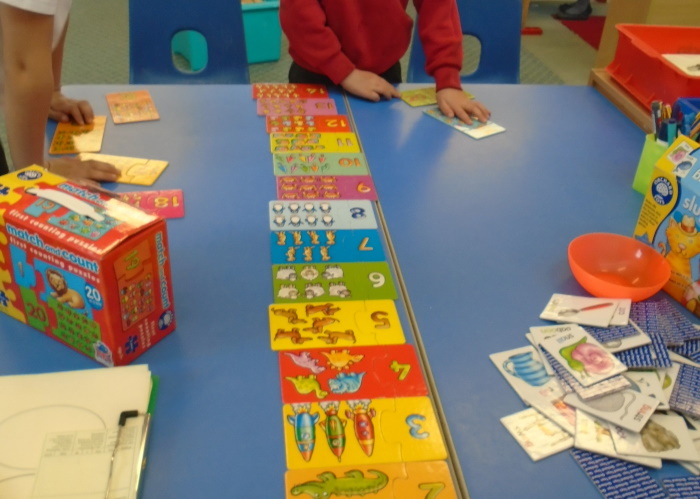 The four operations (addition, subtraction, multiplication and division) are taught incrementally so that a coherent approach is adopted throughout the school. The steps we use are detailed in our Calculation Policy. We acknowledge, however, the pupils all have preferred methods and make apparatus available in every classroom so that the pupils can access it to help themselves when and where they feel the need.
In Key Stage 1 we focus on number bonds, times tables knowledge and problem solving. Pupils develop confidence with our number system, learn about shapes, and use a variety of measures including length, mass, volume, time and money.
In Key Stage 2 we show our pupils how they can apply their existing knowledge to bigger (or smaller) or more difficult problems. We teach number and place value, the four operations, fractions, measures, geometry and statistics in progressive steps. The more complicated elements, such as percentages, ratio and simple algebra are taught in upper Key Stage 2, once the mathematical building blocks are secure.
Across the whole school we use Mathletics to reinforce topics taught in class and to encourage fluency.
We have made a significant investment to refresh our mathematics curriculum in line with the new National Curriculum. This included working closely with our Maths Adviser and purchasing practical maths resources for all classrooms. We are grateful to the Thomas McGregor Foundation for their donation towards this. In 2019/20, maths is again one of our key priorities, building on the successful fluency focus in 18/19.
Latest News
23rd Oct - School is now closed for the autumn half term holiday. We look forward to welcoming pupils and parents back to school on Tuesday 3rd November after the INSET day. Happy holidays!
21st Oct - Today we are pleased to feature in the Cambridge Independent Newspaper with photos and an explanation about our positive mental health curriculum.
19th Oct - We had a great whole school RE day today building up our school journey of 'Understanding Christianity'. Our youngest children learnt about what makes us special and how Jesus is special to Christians. Our older children looked into the topic of what is the 'Good News' of the gospel.
16th Oct - Today, our pupils showcased their positive mental health work as a press photographer visited our school to take socially distanced pictures for the newspaper.
15th Oct - THANK YOU! to the parents who have donated slabs (and the time and effort to install them) to make entry to the school gate less muddy!
13th Oct - Despite to power cut, thank you to everyone who is joining us for the virtual Parents' Evening tonight!
12th Oct - Thanks to Pine class, we will now have on display posters to promote positive thinking including word-web phrases and images. They explored what 'Positive Thinking' means and how we can be more positive in our lives and with other people.
9th Oct - The virtual governor visit today was an opportunity to celebrate all the work we have done this week in conjunction with the YMCA and our cluster schools. Please do ask the children about what they have learnt and how together, we are all promoting positive mental health.
Latest Publications
Notices