Maths
We provide a comprehensive and engaging mathematics programme which follows the current Statutory Orders of the National Curriculum whilst also promoting the individual needs of our pupils. Pupils embed the 'non-negotiable' building blocks for maths as early as possible. Fluency, problem solving and reasoning are encouraged at all levels.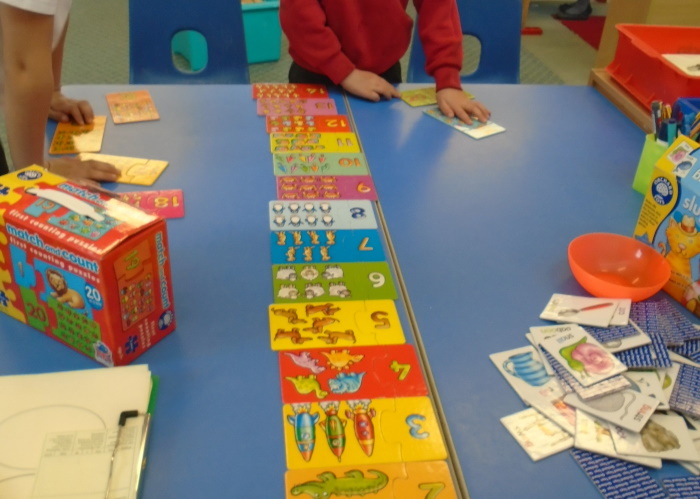 The four operations (addition, subtraction, multiplication and division) are taught incrementally so that a coherent approach is adopted throughout the school. The steps we use are detailed in our Calculation Policy. We acknowledge, however, the pupils all have preferred methods and make apparatus available in every classroom so that the pupils can access it to help themselves when and where they feel the need.
In Key Stage 1 we focus on number bonds, times tables knowledge and problem solving. Pupils develop confidence with our number system, learn about shapes, and use a variety of measures including length, mass, volume, time and money.
In Key Stage 2 we show our pupils how they can apply their existing knowledge to bigger (or smaller) or more difficult problems. We teach number and place value, the four operations, fractions, measures, geometry and statistics in progressive steps. The more complicated elements, such as percentages, ratio and simple algebra are taught in upper Key Stage 2, once the mathematical building blocks are secure.
Across the whole school we use Mathletics to reinforce topics taught in class and to encourage fluency.
We have made a significant investment to refresh our mathematics curriculum in line with the new National Curriculum. This included working closely with our Maths Adviser and purchasing practical maths resources for all classrooms. We are grateful to the Thomas McGregor Foundation for their donation towards this. In 2019/20, maths is again one of our key priorities, building on the successful fluency focus in 18/19.
Latest News
5th Mar - Our final 'Petersfield Press' update of the week has been sent today as we prepare for all pupils' return on Monday. We are REALLY looking forward to seeing you all!
2nd March - As we further prepare for pupils' Monday 8th return, we have recorded another video for children and parents to share more information about the return. We have also sent the key information to parents in a 'Petersfield Press' email. Any questions, please do ask classteachers.
1st March - The first of several expected 'Petersfield Press' updates has been sent by email today to accompany the latest video update for pupils as we prepare for the full opening next week.
26th Feb - Petersfield Press has been sent by email this afternoon. There are lots of updates so please do read about next week and some full opening logistics detailed in the email.
24th Feb - Today we launched Bishop Stephen's Lent Challenge. Check out Mrs Wright's video to introduce the challenge. We look forward to learning with you over the next 5 weeks and receiving your response to the Bishop's challenge.
22nd Feb - Like you, we have listened to the Prime Minister's address to the Commons today. We will be in touch asap once we have have met with County. We will be asking for provisional Puffins bookings up until Easter for those who need this provision to be able to work.
22nd Feb - Today in Collective Worship, we talked about how we work together to achieve great things. As ever, the children offered very insightful reflections and led our prayer to start the new term.
22nd Feb - Welcome back to the start of the Spring 2 half term. Our critical worker pupils continue in school and our remote learning offer continues for those at home. We eagerly anticipate today's announcement. We have planned for possible eventualities, and have a County meeting booked ready.
12th Feb - School is now closed for the February Half Term. The office email will be monitored over the weekend (13th and 14th Feb) and Covid symptoms or positive cases should be reported promptly. School reopens for critical worker children and remote learning on Monday 22nd February.
12th Feb - Look out for today's end of term update email. This contains lots of information with suggested fun half term activities, Rev Felicity's Lent calendar and advance warning of Spring 2 activities including getting active and Red Nose Day.
12th Feb - I had the privilege of joining lessons virtually and looking on TEAMS today as Yew and Elm class finished and shared their 'hot write'. I enjoyed hearing the brilliant and creative stories read to me and reading the newspaper articles.
12th Feb - The Free School Meal (FSM) vouchers for February Half Term were delivered today by email. If you may be eligible, there is still time to apply. Information about FSMs and the Winter Grant was sent by email today.
12th Feb - Rev Felicity talked to us about Shrove Tuesday, Ash Wednesday and Lent in Collective Worship. This year, rather than give up anything further, we are encouraged to do something for others throughout Lent. What will you do to make someone smile?
12th Feb - The 'Animal Experience' for each class today saw us introduced virtually to a selection of wild and unusual animals. The children asked some interesting questions to learn more. This was possible thanks to the FOPS fun run last term and your fantastic fundraising!
Latest Publications
Notices