Maths
We provide a comprehensive and engaging mathematics programme which follows the current Statutory Orders of the National Curriculum whilst also promoting the individual needs of our pupils. Pupils embed the 'non-negotiable' building blocks for maths as early as possible. Fluency, problem solving and reasoning are encouraged at all levels.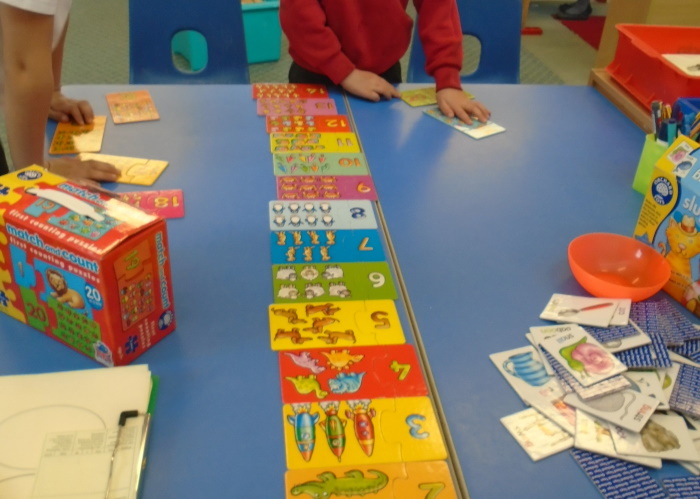 The four operations (addition, subtraction, multiplication and division) are taught incrementally so that a coherent approach is adopted throughout the school. The steps we use are detailed in our Calculation Policy. We acknowledge, however, the pupils all have preferred methods and make apparatus available in every classroom so that the pupils can access it to help themselves when and where they feel the need.
In Key Stage 1 we focus on number bonds, times tables knowledge and problem solving. Pupils develop confidence with our number system, learn about shapes, and use a variety of measures including length, mass, volume, time and money.
In Key Stage 2 we show our pupils how they can apply their existing knowledge to bigger (or smaller) or more difficult problems. We teach number and place value, the four operations, fractions, measures, geometry and statistics in progressive steps. The more complicated elements, such as percentages, ratio and simple algebra are taught in upper Key Stage 2, once the mathematical building blocks are secure.
Across the whole school we use Mathletics to reinforce topics taught in class and to encourage fluency.
We have made a significant investment to refresh our mathematics curriculum in line with the new National Curriculum. This included working closely with our Maths Adviser and purchasing practical maths resources for all classrooms. We are grateful to the Thomas McGregor Foundation for their donation towards this. In 2019/20, maths is again one of our key priorities, building on the successful fluency focus in 18/19.
Latest News
7th May - We were delighted to share our first story with our September 2021 EYFS pupils today as we started the transition from preschool to primary school. It was great to hear how much you enjoyed listening to it.
6th May - Ash Class Assembly was well worth the wait today! What a super showcase of just some of your super learning this term Ash class! Thanks to everyone who enjoyed it with us.
4th May - There was much excitement in school today as the KS2 football club restarted after school.
4th May - Every class talked animatedly this afternoon as they explain their learning to our County Primary Advisor who visited virtually today.
4th May - We hope you had a great Bank Holiday! Our thanks to the staff who worked on the school site this weekend to weed and tidy the playground and sensory garden.
30th Apr - Happy Bank Holiday weekend! It was lovely to hear about the children's plans for the weekend today. We look forward to seeing all our pupils on Tuesday (not Monday!)next week!
30th Apr - Today, we joined many others in 'England does the Daily Mile' as every class continued our Daily Mile challenge.
29th - Due to the County wide internet issue, we have postponed today's Ash Class Assembly to next week - 6th May.
29th Apr - Our new phone line has been activated today. The usual school contact number should now been visible when we call you.
21st Apr - Year 5 and 6 were joined by representatives from the University of Cambridge to be awarded certificates and a set of 10 wooden microscopes for the winning images we submitted to the science image award last year.
19th Apr - We are very excited to be launching National Skipping Week with the World Record beating champion skipper, Pete Thompson, coming to demonstrate his skills and run workshops with the children.
15th Apr - Well done to the well deserved winners of the Headteacher Awards and Hollands Cup presented virtually today. Thank you to family members who shared in these achievements with us.
13th Apr - Today, Rev Felicity led our service as we joined with Barrington School virtually. We reflected on a 'Life Well Lived' in our Collective Worship following the Death of HRH Duke of Edinburgh.
12th Apr - Welcome back to the Summer term! What a fantastic start to the term! Our children's enthusiasm for learning and seeing their peers is great to see.
30th Mar - We are pleased to report that the Track and Trace process for the end of the Spring term is now complete with no positive Covid cases to report. If you or your child now develops symptoms, please follow NHS Track and Trace. Happy Easter Everyone!
26th Mar - If anyone who has been in school develops symptoms or has a positive Covid test on Saturday 27th or Sunday 28th March, please notify school immediately via the office email. After this, please follow the newsletter instructions and follow NHS Track and Trace requirements.
Latest Publications
Notices