Prevent
The Prevent Agenda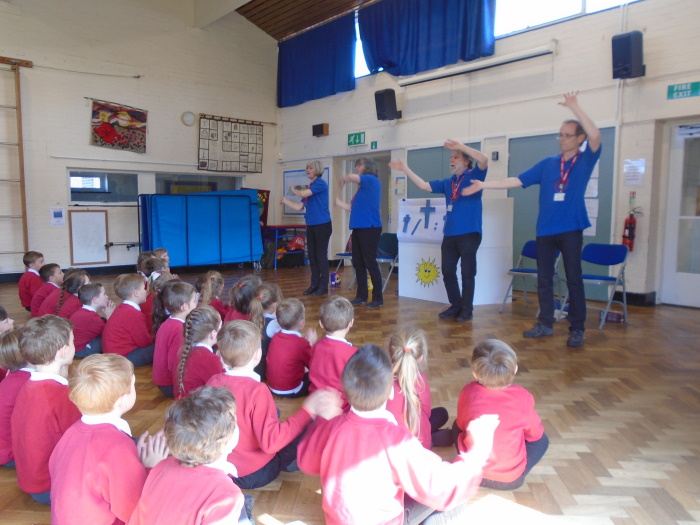 From 1 July 2015 we are subject to a duty under section 26 of the Counter-Terrorism and Security Act 2015 to have "due regard to the need to prevent people from being drawn into terrorism". Protecting children from the risk of radicalisation and extremism is part of all staff's wider safeguarding duties.
Radicalisation refers to the process by which a person comes to support terrorism and forms of extremism. Extremism is vocal or active opposition to fundamental British values, including democracy, the rule of law, individual liberty and mutual respect and tolerance of different faiths and beliefs and includes calling for the death of members of our armed forces, whether in this country or overseas. During the process of radicalisation it is possible to intervene to prevent vulnerable people being radicalised.
At Petersfield we have a policy and a risk assessment and action plan to meet our statutory obligations to work to prevent people being drawn into radicalisation and extremism. All staff are being trained in the necessary skills to identify people at risk, follow the policies and procedures of the Local Safeguarding Children's board and teach pupils about safety including online safety.
At Petersfield we focus on addressing safeguarding with pupils through personal, social health and economic and citizenship education (PSHCE) lessons. However, we ensure that educating our pupils about safeguarding, including online, is done through teaching and learning opportunities, as part of providing a broad and balanced curriculum.
Latest News
21st Sept - Thank you to Rev Felicity for leading our Harvest Service today. It was wonderful to be altogether on the school field and to think about our donations and who they will help.
20th Sept - Today we have begun to think about Harvest in Collective Worship. Our School Council introduced our collection for tomorrow's Harvest Festival. We are collecting money for our Malawi fundraising and food for the local food bank if you are able to donate tomorrow.
17th Sept - Well done to our EYFS who enjoyed learning in school for their first full day today.
17th Sept - Today's second virtual creative writing session led to brilliant extended writing from year 3 and 4.
16th Sept - We look forward to seeing the creative writing from year 3 and 4 following the first of two 'Beneath the Surface' virtual writing sessions today.
16th Sept - Today we welcomed Rev Felicity into school for the first of the session exploring Collective Worship.
14th Sept - Thank you to the parents who joined the first of the Curriculum Sessions for parents this afternoon. Rowan and Yew class sessions are on Thursday this week. We look forward to seeing you there.
14th Sept - Multisports is back today for this term. There are a few spaces left if you have not yet signed your child up to participate.
10th Sept - Ash class enjoyed lunch in school for the first time today. Our Year 1 role models were fantastic and our EYFS pupils followed all the lunchtime routines beautifully.
9th Sept - Tonight, staff and governors met virtually for our essential annual Safeguarding training. Our updated Safeguarding Policy will be published once it is approved at FGB later this month.
6th Sept - Today our new EYFS children mixed as a whole class and are already being great friends to others.
3rd Sept - At lunchtime, pupils and staff identified a project to improve the outside area. School council members have been thinking about how we can work together. Thank you to all the children who helped today. What a difference TEAM Petersfield makes! Community volunteers welcome to help weed!
2nd Sept - Welcome back to all the mums and dads and other family members who adapted seamlessly to the 'normal' end of school arrangements. We very much value the informal communication between home and school which this facilitates.
2nd Sept - Beaming smiles and rekindling and new friendships resulted from the whole school playing together on the field at break and lunchtime today.
2nd Sept - In Collective Worship, we reflected on our feelings as we return to school for the new school year.
2nd Sept - Welcome to all our new pupils and families. Well done for such a confident start to the term.
2nd Sept - What a super start to the term! The earlier school start time, following last year's consultation, resulted in everyone being in school learning in less than 8 minutes despite it being a busy first day! Every minute's learning counts at Petersfield. Well done!
1st Sept 21 - The first day of the Autumn term was a busy INSET day for teachers and included a County briefing. Parents, please see the email sent tonight with details in advance of tomorrow. Looking forward to seeing you in the morning!
22nd July - Whilst we are closed, please see our Covid page (under the class drop down menu) if you need any information on welfare and keeping children safe over the summer. There are also links on the website to resources you can use to continue learning over the summer.
22nd July - School is now closed to pupils, parents and visitors. The school will reopen to pupils on Thursday 2nd September. We will update parents on 1st September with any pertinent information. Happy Summer!
22nd July - In their final assembly, the year 6 pupils reflections, thanks and singing of their personalised anthem (not to mention the baby photos) brought smiles and tears as we celebrated them demonstrated they are indeed 'all that they can be!' Good luck year 6!
22nd July - What a day for a whole school picnic lunch!
22nd July - Year 6 completed the shirt signing today - a long standing tradition at Petersfield!
22nd July - Thank you to Rev Felicity for leading our Leavers' Service today. The year 6 pupils were presented with a Bible from the Parish and the Methodist church to take with them on life's journey.
Latest Publications
Notices