School History
Petersfield Church of England (Aided) Primary School was officially opened on 22nd June 1962. Until that time, primary school aged children had been educated nearby in small village schools. However, by the 1950s numbers of pupils in many of these schools had fallen below sustainable levels and so the local authority began to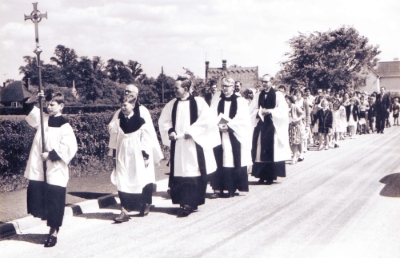 explore the possibilities for consolidating the small village schools into one larger school, which could serve the whole area. As all but one of these schools were church-run schools, the Diocese of Ely, as well as the Cambridge Education Committee, were involved in the discussions.
After three years of negotiations, a suitable site for the new school was eventually found on Hurdleditch Road in Orwell. The land was purchased from Mr H.G Peters, of Manor Farm, Orwell. The land had been known locally as 'Greenbridge Meadow', but it is from Mr Peters that the school gets its name - Petersfield.
The construction of the new school building began in 1960. The Archdeacon of Ely led a service of dedication at the site, and Mrs Bambridge of Wimpole Hall planted a commemorative tree, which still grows with vigour outside what is now the head teacher's office.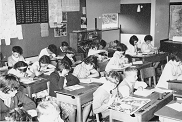 The first head teacher of the school was Mr Basil Waterton. A former naval serviceman, Mr Waterton came to the school from a deputy headship in Buckinghamshire, and was to remain at the school for twenty five years. He was succeeded as head teacher in 1986 by Mrs Barbara Radcliff.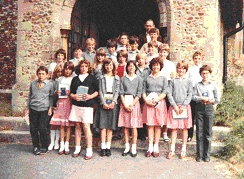 The school serves six South Cambridgeshire villages. Initially, the school would serve the villages of Orwell, Wimpole, Whaddon, Arrington and Croydon. A few years later, the school was pleased to welcome the children of Tadlow as well.
Petersfield has a special place in the community and is proud of its long tradition of excellence, innovation and service. We estimate that over 2,500 pupils have passed through our school since it opened in 1962. During our 50th anniversary year in 2012, the school's History Wall project was established to tell the school's story from its earliest beginnings to the modern day. The History Wall was unveiled on 19 May 2012 and celebrates the school's many successes and milestones over the years including: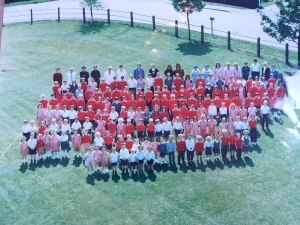 the school's official opening in 1962, followed quickly by ...
the worst winter since 1740!
the formation of our PTA (formally the 'Friends of Petersfield')
the opening of the school's first swimming pool (originally outdoor and unheated!)
Petersfield's first television
watching the first moon landing in the school hall
the arrival of Petersfield's first computer
our special relationship with the Wimpole Estate
sporting successes
music and dance performances
educational, cultural and environmental awards
a national History Association Award for our documentary 'Following Faded Footsteps'
the opening of the school's 'Growzone'
and much, much more.
We were thrilled with the community response to our History Wall project and since have published a colourful book entitled 'Petersfield: A Celebration of 50 Years of Success in Learning' which contains a wealth of information about the history of our school. If you would like to receive a copy, please contact us.
Latest News
7th May - We were delighted to share our first story with our September 2021 EYFS pupils today as we started the transition from preschool to primary school. It was great to hear how much you enjoyed listening to it.
6th May - Ash Class Assembly was well worth the wait today! What a super showcase of just some of your super learning this term Ash class! Thanks to everyone who enjoyed it with us.
4th May - There was much excitement in school today as the KS2 football club restarted after school.
4th May - Every class talked animatedly this afternoon as they explain their learning to our County Primary Advisor who visited virtually today.
4th May - We hope you had a great Bank Holiday! Our thanks to the staff who worked on the school site this weekend to weed and tidy the playground and sensory garden.
30th Apr - Happy Bank Holiday weekend! It was lovely to hear about the children's plans for the weekend today. We look forward to seeing all our pupils on Tuesday (not Monday!)next week!
30th Apr - Today, we joined many others in 'England does the Daily Mile' as every class continued our Daily Mile challenge.
29th - Due to the County wide internet issue, we have postponed today's Ash Class Assembly to next week - 6th May.
29th Apr - Our new phone line has been activated today. The usual school contact number should now been visible when we call you.
21st Apr - Year 5 and 6 were joined by representatives from the University of Cambridge to be awarded certificates and a set of 10 wooden microscopes for the winning images we submitted to the science image award last year.
19th Apr - We are very excited to be launching National Skipping Week with the World Record beating champion skipper, Pete Thompson, coming to demonstrate his skills and run workshops with the children.
15th Apr - Well done to the well deserved winners of the Headteacher Awards and Hollands Cup presented virtually today. Thank you to family members who shared in these achievements with us.
13th Apr - Today, Rev Felicity led our service as we joined with Barrington School virtually. We reflected on a 'Life Well Lived' in our Collective Worship following the Death of HRH Duke of Edinburgh.
12th Apr - Welcome back to the Summer term! What a fantastic start to the term! Our children's enthusiasm for learning and seeing their peers is great to see.
30th Mar - We are pleased to report that the Track and Trace process for the end of the Spring term is now complete with no positive Covid cases to report. If you or your child now develops symptoms, please follow NHS Track and Trace. Happy Easter Everyone!
26th Mar - If anyone who has been in school develops symptoms or has a positive Covid test on Saturday 27th or Sunday 28th March, please notify school immediately via the office email. After this, please follow the newsletter instructions and follow NHS Track and Trace requirements.
Latest Publications
Notices