EYFS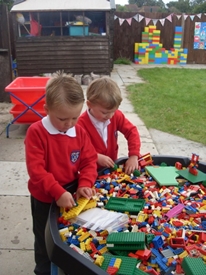 The Early Years Foundation Stage
We work closely with the local pre-schools to assist our teachers in identifying an accurate baseline and ensuring a smooth transition for all pupils starting school in Reception.
Based on the Development Matters framework, pupils are assessed as 'developing', 'emerging' or 'secure' in the 30-50 month; 40-60 month and Early Learning Goals as they progress through the year. From September 2015, a baseline assessment has been introduced for all Reception pupils. The Early Years curriculum is broken down into seven distinct areas.
Personal Social and Emotional Development
Making relationships
Self-confidence and self-awareness
Managing feelings and behaviours
Physical development
Moving and handling
Health and safety and care
Communication and Language
Listening and attention
Understanding
Speaking
Literacy
Maths
Numbers
Shape, space and measure
Understanding the World
People and communities
The world
Technology
Expressive Arts and Design
Exploring media and materials
Being imaginative
Pupils are also assessed against the Characteristics of Effective Learning:
Playing and Exploring - Finding out and exploring, Playing with what they know, Being willing to have a go.
Active Learning - Being involved and concentrating, Keeping trying, Enjoying achieving what they set out to do.
Creating and Thinking Critically - Having their own ideas, Making links, Choosing ways to do things.
At the end of the year, progress and attainment will be reported to parents in an Early Years Foundation Stage report.

EYFS Policy
Latest News
19th Oct - School is now closed for half term. However, holiday sports clubs are running throughout the holiday week. Monday 29th is a staff INSET training day so school will reopen for the new term to pupils, parents and visitors on Tuesday 30th Oct. Happy half term!
19th Oct - Mr Hollands presented the Hollands' Cup to Thomas for his musicality and love of music. He also gave us a treat by dancing for us!
19th Oct - Well done Petersfield, we raised £104.64 for the Shine charity. It was delightful to see all the children dressed in yellow. This money will really make a difference to families in Cambridgeshire.
19th Oct - We enjoyed a wonderful Black History assembly. Children presented work inspired by: Frank Bowling, Chris Ofili, Lublin Himid, Uno Egonu and Hurvin Anderson. The children's work was so good that it was difficult to see the difference between the artist and the children's.
15th Oct - The Lunchtime Company, new lunch providers as of today, received rave reviews from pupils and staff who commented on the amazing taste, delicious smell the moment you entered the dining hall and the significant improvement in the school meals today.
15th Oct - School started with much excitement in assembly as our Story Teller challenged our understanding of stories. Each class is participating in an exciting workshop in preparation for sharing stories with children from Barrington and Foxton school after half term.
Latest Publications
Notices