EYFS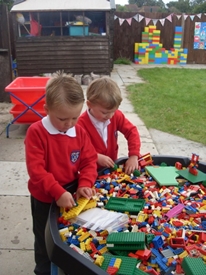 The Early Years Foundation Stage
We work closely with the local pre-schools and parents to assist us in identifying an accurate baseline and ensuring a smooth transition for all pupils starting school in Reception.
Our practise is largely informed by the Early Years Foundation Stage (EYFS) Framework which is adapted to meet the needs of each individual child. This is the statutory guidance on the standards that schools and childcare providers must meet for the learning, development and care of children under 5.
Planned, purposeful play is the foundation of development and learning for young children. It is the way skills are developed and practised. Children take part in a mix of child-initiated and adult led activities.
The curriculum is based upon 7 areas, 3 prime and 4 specific. The prime areas are Personal, Social and Emotional development, Physical Development and Communication and Language. The specific areas are Literacy, Mathematics, Understanding the World and Expressive Arts and Design.
Personal Social and Emotional Development
Making relationships
Self-confidence and self-awareness
Managing feelings and behaviours
Physical development
Moving and handling
Health and safety and care
Communication and Language
Listening and attention
Understanding
Speaking
Literacy
Maths
Numbers
Shape, space and measure
Understanding the World
People and communities
The world
Technology
Expressive Arts and Design
Exploring media and materials
Being imaginative
We assess children at the end of the Reception year against the Foundation stage profile. At the end of the year, progress and attainment will be reported to parents in an Early Years Foundation Stage report.
We develop children's characteristics of learning throughout the year using Growth Mindset characters. The characteristics of learning include:
Playing and Exploring - Finding out and exploring, Playing with what they know, Being willing to have a go.
Active Learning - Being involved and concentrating, Keeping trying, Enjoying achieving what they set out to do.
Creating and Thinking Critically - Having their own ideas, Making links, Choosing ways to do things.

EYFS Policy
Latest News
12th Dec - The final performance of Lights, Camel Action! EYFS and KS1, you have showcased your learning through your oracy skills, singing, dancing and acting and really impressed us all this week. Well done!
11th Dec - Another amazing performance of Lights, Camel, Action, well done EYFS and KS1! We look forward to the final performance tomorrow! Our children said 'I enjoyed performing to all the parents and to the rest of the school'
10th Dec - Due to high winds, we were relocated to Wimpole Church for our Carol Singing. Thank you to everyone who joined us, sang, read and played. This is an annual highlight! Thank you also to Mr and Mrs Williams, Revd Felicity, Wimpole and FOPS.
10th Dec - 10 out of 10 - my score for Strictly Come Camel! Well done EYFS and KS1 the Rehearsal was superb! The singing was particularly impressive!
7th Dec - Christmas in Cambridge was fantastic! Thanks to FOPS and all the volunteers who made the event possible and such a great fundraiser. The slime making was a particular success with the children, including those who are young at heart!
6th Dec - We currently have a Petersfield Christmas tree at the Methodist Chapel as part of the Tree Festival. The theme this year is considering the environment. All our decorations have been made with recycled material.
6th Dec - Our Year 5 and 6 pupils went to St Andrew's church for REActive Church, where they learnt more about the meaning of Christmas and Gabriel bringing the message to Mary.
4th Dec - Today we were delighted to welcome GENR8 into school to deliver a Christmas message. Our pupils said 'I like the way they speak to the whole audience.' and 'They present the information about Jesus in a fun way with stories, songs and puppets.'
2nd Dec - Thank you for your patience today. The boiler pump has been fixed. School is warming up in stages and will open tomorrow.
2nd Dec - URGENT - Apologies, school is currently closed as we have no heating or hot water. We are expecting the technician before the start of the school day and will update here as soon as we know more.
29th Nov - We held our Christingle service in St Andrews Church today and were joined by Mother Goose. It was a delightful service, led by Revd Felicity. Seeing the pupils' faces under the candlelight is always a joy!
28th Nov - Pupils from KS2 joined other schools in a cross country tournament today. We were delighted with our pupils' performance, winning in the year 6 boy and girl and year 3 boy races. Well done!
22nd Nov - As a whole school, we discussed how to keep safe on the roads at near school, at home and near work environments. We shared the survey results for walk to school week. Well done Petersfield!
20th Nov - Our KS1 pupils attended the Multisports Festival with Barrington and Foxton children. They said: 'It was really fun.' 'We worked with other schools in teams.' 'We played lots of new games.'
Latest Publications
Notices