EYFS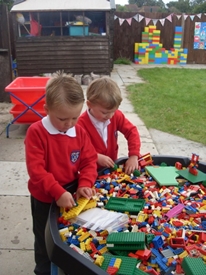 The Early Years Foundation Stage
We work closely with the local pre-schools to assist our teachers in identifying an accurate baseline and ensuring a smooth transition for all pupils starting school in Reception.
Based on the Development Matters framework, pupils are assessed as 'developing', 'emerging' or 'secure' in the 30-50 month; 40-60 month and Early Learning Goals as they progress through the year. From September 2015, a baseline assessment has been introduced for all Reception pupils. The Early Years curriculum is broken down into seven distinct areas.
Personal Social and Emotional Development
Making relationships
Self-confidence and self-awareness
Managing feelings and behaviours
Physical development
Moving and handling
Health and safety and care
Communication and Language
Listening and attention
Understanding
Speaking
Literacy
Maths
Numbers
Shape, space and measure
Understanding the World
People and communities
The world
Technology
Expressive Arts and Design
Exploring media and materials
Being imaginative
Pupils are also assessed against the Characteristics of Effective Learning:
Playing and Exploring - Finding out and exploring, Playing with what they know, Being willing to have a go.
Active Learning - Being involved and concentrating, Keeping trying, Enjoying achieving what they set out to do.
Creating and Thinking Critically - Having their own ideas, Making links, Choosing ways to do things.
At the end of the year, progress and attainment will be reported to parents in an Early Years Foundation Stage report.

EYFS Policy
Latest News
15th Feb - School is now closed for half term. We look forward to welcoming pupils, parents and visitors back to school on Monday 25th February
15th Feb - Congratulations to our Holland's Cup winner for demonstrating her musical skills this term.
12th Feb - Well done year 6! Your enthusiasm, questioning skills and enjoyment of the text were a credit to you during the first early morning booster session today.
8th Feb - Today we were joined by our Health and Safety Governor for a meeting with our representatives, followed by a Health and Safety walk around the school site. Together, we worked to identify any Health and Safety issues.
7th Feb - As part of their topic work, Pine class visited Flag Fen today. This was a fantastic opportunity and will support their further learning back in the classroom.
7th Feb - In their class assembly, we were delighted to see all the learning the pupils in Rowan class have achieved this term. The Mayan headdresses and painted faces were very effective!
5th Feb - E-Safety Day - 'We have learnt that there are many websites and organisations which might ask us to give them permission to use our personal data and what we should do to keep our date safe'.
1st Feb - We were delighted to welcome our EDRA into school today. She visited each class, celebrating the work on show and commented on how she could see the positive impact of our oracy work.
31st Jan - Our KS1 children joined in our E-Safety workshops, learning interactively how to stay safe online. They learnt that we do not always know who we are messaging and we must not share our details online.
Latest Publications
Notices