School Shield
We now have a new, updated version of our school badge. It is still based on the original design by Basil Waterton, Petersfield's first 'Head Master' but now includes a symbol for Tadlow, the fifth parish to join our school community; presumably not included in the shield in the first place as Tadlow pupils started attending Petersfield a few years after the school opened in 1962.
If you would like to find out more about the history of our school, we produced a book to celebrate our Golden Jubilee in 2012. This can be consulted in school or there are a few copies left to buy.
A few designs for a new school logo were judged by our pupils, parents, staff and governors and the winner was fine-tuned into the beautiful design (below right).
We've kept a picture of the original shield so you can see how it's changed (below left).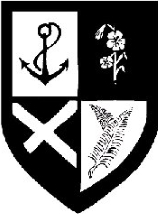 Often we are asked by pupils and parents where the symbols originate and why they are used. We hope you will find the explanation below interesting.
The cross of St Andrew, represents both the church of St Andrew, Orwell and the church of St Andrew's, Wimpole, and it now runs across the middle of the shield. The pupils liked this idea as Orwell is the geographical home of Petersfield. The diagonal cross embraces the other parish symbols.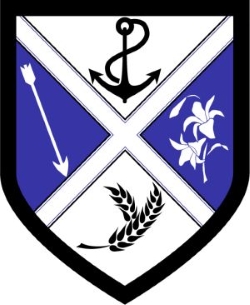 At the top of the shield is the anchor which symbolises the parish of St Nicholas, Arrington. The anchor represents the connection between St Nicholas and ships and sailors. (In some countries, St Nicholas is the patron saint of sailors).
To the right, the lily symbolises the parish church of St Mary's, Whaddon. The Virgin Mary, Jesus's mother, has many floral symbols, including the lily of the valley, the rose, the "English daisy", the pansy and the periwinkle. It couldn't be agreed which flower Basil Waterton had chosen to depict on his shield, so the lily, as depicted on our school banner was chosen as it is has been found on an old hanging in St Mary's, Whaddon.
At the bottom of the shield, the two heads of wheat symbolise the Church of All Saints, Croydon-cum-Clopton. All Saints Day is traditionally celebrated in November. Wheat is one of the traditional symbols of All Saints Day. It is also a fitting symbol for our school, which in the summer, is surrounded by golden wheat fields. As you can see, the wheat has translated over the years into what look like feathers on the old shield. This may have happened due to endless redrawing and someone mistaking the wheat for feathers. They seem to have stuck for a while!
Finally, the new symbol of an arrow has been added to the left on the shield, representing St Giles, Tadlow. Two symbols which represent St Giles are an arrow and a hind. To keep the simplicity and boldness of the shield design, the arrow was chosen. An arrow, shot at the deer, who in some stories sustained St Giles for many years in his solitude, wounded the saint instead, who afterwards became the patron saint of people with physical disabilities.
Latest News
20th Mar - Thank you to all those parents who attended tonight's Parents' Evening. We very much appreciate you taking the time to fill out our questionnaires and speak to Governors. Please do contact school if you have not yet arranged your appointment as this close home school liaison is vital.
20th Mar - Puffins pupils were delighted to received their morse code certificate today thanks to our local experts Peter, Martin and Eric. Puffins are very much looking forward to the 'advanced' session next.
20th Mar - Thank to Rev Felicity for supporting the pupils who led our collective worship today.
16th Mar - It is always a pleasure to hear about the learning successes of our pupils in the Hedteachers' Awards assembly.
16th Mar - Rev. Felicity joined pupils to collaboratively plan our Lent church service which we hope you can join us at. The service is at 9:30am on Wednesday 28th March.
16th Mar - We were delighted to welcome Mrs Murfet into school to lead science activities with science club and two classes as part of British Science week. Exciting activities included lava lamps, George's marvelous medicine and rainbows!
16th Mar - Yew class participated in REactive Church today. Thank you to volunteers who make this possible.
14th Mar - Thank to Pine class and the school community for making the FOPS Pine cake sale such a fundraising success whilst enjoying tasty treats!
14th Mar - It was wonderful to welcome Mrs Bonfield back into school today to launch our handmade values bears. We are very grateful for her skill and time to make these for us. They are a beautiful replacement for the much loved values dolls which represented the old school values.
14th Mar - Rowan class attended the first of the REactive Church sessions as we prepare for Easter.
12th Mar - We were delighted to welcome Andy Richardson, from local business Volac, into school today to view Clicker7 and talk to the pupils about it. We are incredibly grateful to Volac for purchasing this fantastic educational software that can be used to support learning at home and school.
9th Mar - We were delighted to have so many mothers and female carers in school for lunch and Mother's Day activities. Pupils worked with their mums and grannies to make bridges, plaques, towers and also took part in a scavenger hunt!
9th Mar - In our Elm Class assembly, they shared their learning about Great Britain through artwork, oracy, music, songs and a wonderful retelling of the Feeding of the 5000 Bible story.
7th Mar - Pine Class walked up to Wimpole Hall Farm as part of their 'United Kingdom' topic focusing on their local area. Whilst there, they took part in an activity making butter in the Victorian dairy.
5th Mar - Mrs Grieves launched 'Malawi Monday' our fundraising challenge to cover her giant map of Malawi in donated coins. These funds will be taken to Malawi in August 2018 to continue the charity work of providing useable school building and resources for children to learn in.
Latest Publications
Notices