Events
Spring Term 2018 Events
2nd Mar - Thank you to the parents who braved the snowy weather to attend Headteachers Award Assembly. We were pleased the weather was such that we could keep the school open all week as the snow really came down at 3pm on Friday to start the weekend. One child thanked us for staying open!
28th Feb - For World Book Day, Helen Moss delivered workshops to all our pupils thanks to FOPS fundraising. Our pupils were inspired and one summed up the day by saying 'The author was really interesting. I learnt a lot and I even got a book!'.
28th Feb - Today we welcomed Andrew Reed, Director of Education for Ely Diocese, into school to celebrate the progress made against our Ofsted actions. The developing oracy skills and our inspired young writers were showcase by World Book Day.
23rd Feb - Thanks to FOPS and all those who attended the Petersfield Quiz. It was a very enjoyable night which raised much needed funds for the school!
23rd Feb - We were impressed by the half term learning which produced the homework challenge work. All pupils had the opportunity to talk about and show their varied creations during our celebration assembly today. Well done to all our children and their carers who obviously contributed to this.
21st Feb - We were delighted to welcome a member of the Ely Diocese team into school today as we again embark on Bishop Stephen's Lent Challenge.
19th Feb - Welcome back to school, open today for spring half term 2, to pupils, parents and visitors.
9th Feb - School is now closed for half term. We look forward to welcoming pupils, parents and visitors back to school on Monday 19th February. Happy Half Term!
9th Feb - Our Headteachers' Awards Collective Worship yet again showcased the talents of our pupils both with the live music and the awards to celebrate learning.
9th Feb - Congratulations to our Holland's cup winner today, who was awarded this because of her increased confidence to try out playing new pieces of music on the piano.
7th Feb - Thanks to the Post Office staff in Orwell who enabled Ash class to purchase their stamps as part of their project work.
6th Feb - Safer Internet Day. Pine class reported that 'In class, we thought about and discussed what emotions we'd feel if different things happened to us online and we created a 'wanted' poster for a good online friend.' Please do see the website for more information about staying safe online.
5th Feb - Well done to the KS2 pupils who represented Petersfield at the curling competition today.
2nd Feb - Year 5 and 6 visited Bassingbourn Village College to enjoy the dance show performed by the BVC pupils. This great opportunity inspired our pupils, illustrating what they can achieve when they reach secondary school.
1st Feb - We were delighted to be joined by many parents and friends to hear the beautiful singing of Petersfield's Young Voices Choir. They sang a selection of songs from those sung at the O2. They were truly inspirational!
31st Jan - Today was the 'Best School trip ever!' according to our pupils. We are so proud of our 'Young Voices' singers after their fabulous performance at the O2.
30th Jan - Congratulations to the Year 4 Maths Challenges teams who did a stunning job of representing Petersfield at St Faith's School.
26th Jan - Yew class led an inspirational assembly reporting back on what they had learnt at the Mental Heath conference in Cambridge. We learnt about mindfulness: we all sang together and played body percussion and discovered how concentrating on our breathing can help us relax!
19th Jan - Well done to our year 3 and 4 pupils who participated fully in Bikeability. They learnt new cycling skills, including safe cycling in cold weather.
19th Jan - School is OPEN today. All power and sanitation are now restored.
18th Jan - School is closed today as we still have no power, and crucially no running water.
12th Jan - Our year 6 pupils found the Mental Heath Conference very interesting with many new experiences: 'I learnt about mindfulness', 'It was amazing when we put a piece of music together and added a verse!'.
12th Jan - In our Headteachers Assembly today, we enjoyed listening to a pupil who was awarded The Hollands Cup for Music last term because of her beautiful singing voice. It was a delight and an inspiration for the pupils to hear how a voice can be used like an instrument.
8th Jan - Thank to the Molly Dancers for working with Elm and Pine class. Both classes performed the challenging dances well. This performance was really enjoyed by the rest of the school.
4th Jan - Happy New Year and welcome back to the spring term! What a positive start to learning for the term. Well done Petersfield!
3rd Jan - We look forward to welcoming back all our pupils, staff and visitors tomorrow, on Thursday 4th of January, for the start of the Spring term.
3rd Jan - Happy New Year! Today, for our INSET training day, all school staff and 2 of our governors were delighted to join Barrington and Foxton schools to launch our Talking Together project.
Autumn Term 2017 Events
19th Dec - We wish you a very Merry Christmas as school closes today for the Christmas holiday. School will remain closed to pupils until we reopen on Thursday 4th of January (following an INSET training day for school staff on the 3rd of January).
19th Dec - What a fantastic way to end the autumn term with our Christmas parties and a visit from Father Christmas!
19th Dec - Thank you to Rev. Felicity for leading our Christmas nativity service at church. Our reception pupils acted out the Christmas story which was narrated by year 6.
18th Dec - Thanks to CCS for cooking Christmas dinner and to FOPS for supplying the crackers. What a festive meal, eaten as a school, on the penultimate day of term.
15th Dec - Congratulations to our Holland's Cup winner and all those who received certificates at the final Headteachers' awards of 2017.
14th and 15th Dec - What fabulous Christmas Production performances Ash and Elm class, well done!
13th Dec - Wow! The EYFS and KS1 Christmas Production Dress Rehearsal was stunning today. Lines, singing, dancing - what a performance from our younger pupils. Thanks to Mother Goose for enjoying this with us.
12th Dec - CANCELLED - it is with regret that we have cancelled tonight's Carols at Wimpole due to ice and sickness.
12th Dec - Thanks to Mrs Norie and our French club for their wonderful presentation in assembly.
11th Dec - Year 6 were delighted to be invited to the Methodist church to join in with rousing renditions of Christmas carols today.
12th Dec - Thanks to the Johnson Matthey team for analysising and presenting the results of the salt experiment in this afternoon's science session.
11th Dec - Thanks to our school staff and our local knight in shining armour (with his own snow shovel and energy!), school is open for learning and all the paths are clear.
11th Dec - Snow update: 7:30am School is open. Please follow staff instruction about the route to enter school safely and bring coats, hats, gloves etc for outside.
9th Dec - After reflecting on the star in the nativity story, our contribution to the Methodist Tree Festival (thanks to a donation by Arrington Nurseries) was decorated with stars.
10th Dec - Thanks to Pine class for sharing their learning with pupils, parents and staff in their Class Assembly.
7th Dec - Our pupils were treated to a Panto paid for by FOPS (PTA). They laughed and joined in with the classics panto lines. After the panto, some classes had workshops learning more about the characters and ideas used in pantos.
6th Dec - Our children responded to the wonderful GenR8 assembly by saying: 'I learnt that Christmas is not just about presents, stockings and chocolates', 'It was good that the little ones can understand the true meaning of Christmas' and 'The puppets were great fun!'.
6th Dec - Pine class were the first class in KS2 to enjoy and learn from REactive church thanks to Rev. Felicity and the volunteers.
4th Dec - Today was a day of fabulous tales for each class as our Norfolk Children's Book Shop storyteller read extracts of interest to pupils. This was followed by a fabulous book fair which raised commission to buy some of these high quality books for our school.
1st Dec - At the Christmas Fair, there were many amazing things to purchase. The children enjoyed making secret gifts for their loved ones and a good time was had by all whilst making much-needed funds for the school. Thank you to FOPS committee for all their hard work.
1st Dec - The Christingle Service, held at St Andrews church, was beautiful; the light reflecting from the candle flames into the children's faces left us with a feeling of awe and wonder.
30th Nov - Thank you to the parents who joined us during the morning to make Christingles with their children.
29th Nov - Our school hosted Ed Williams, from Elite Swimming Academy, to talk in assembly about his recent solo swims across the English Channel, Gibraltar Straits and the Irish Channel. Ed spoke about the importance of courage, perseverance and resilience.
24th Nov - Exciting investigation today at the first science club lunchtime session.
24th Nov - Thanks to all the donations for the FOPS Christmas Fair on 'Non Uniform' day.
24th Nov - As it is Road Safety Week, we have been learning more about how to stay safe on the roads. Our pupils presented this message in a variety of ways, through posters, writing and our youngest pupils explained how to cross the roads safely.
22nd Nov - our 'Stay and Play' session at Peterfield welcomed prospective parents and pupils for September 2017. The application deadline for the first round of EYFS admissions is 15th January 2018.
22nd Nov - Pupils from Petersfield attended an award ceremony and were presented with our Bronze Travel Plan award and a prizes of bike and scooter storage.
21st Nov - Thanks to FOPS for the dancing, sweets and fun had at tonight's school disco.
17th Nov - The whole school dressed-down and dressed-up for Children In Need in return for giving a donation to this worthwhile charity. In assembly we learnt about how the money is raised and how it is spent. Our pupils reflected children who are not so fortunate.
16th Nov - We were delighted to host one of our regular induction sessions. We highly value the parent and local community support we receive to enrich the learning of our pupils.
16th Nov - In our Anti-Bullying Assembly today, we listened to how to be a good friend, why we are all unique, special and equal and the varieties of bullying. The pupils learnt more about how to deal with cyber bullying and we all agreed that Petersfield is an anti-bullying school.
15th Nov - Hands on science in Rowan Class thanks to Miss Ball! 'Mr Ashford made his hands wet, scooped up the bubbles and Miss Ball then set light to a long, long, long stick before setting Mr Ashford's hands on fire! Twice! When the flames went out, Mr Ashford's hands weren't even singed!'
14th Nov - Year 6 participated in the first of an exciting series of science lessons thanks to Johnson Matthey as organized by one of our wonderful parents.
14th Nov - we continue to invite parents and carers into school to find out more about how we support any specific needs of our pupils at our 'SENDCo parent drop in'. Please see the diary dates for the next session in the Spring term.
8th-14th Nov - Thank you to our teachers and FOPS for staffing the book fair and to our pupils and parents for supporting this event and grabbing a good read!
11th Nov - We were very proud of our pupils, past and present, who joined us and the local community to observe 2 minutes silence. Our thanks to Mr Bryant for organizing the poppy campaign at Petersfield and to the Standard Bearer who led us from school to Chequers.
10th Nov - Pine class enjoyed an excellent visit to the British Museum. Thanks to our staff and volunteers for enabling this visit.
10th Nov - Congratulation to those who deserved our Headteacher Awards today. We are very proud of the excellent learning and attitudes to learning being demonstrated.
9th Nov - We were delighted to welcome prospective parents to our Open Afternoon for September 2018 intake. We were very impressed with how the children joined in with the learning in class. We look forward to welcoming new pupils and parents back. The deadline for applications is 15th Jan 2018.
8th Nov - What an exciting medieval day in EYFS and KS1 today! Music, dancing, arts, crafts, cooking, and of course a banquet, were all enjoyed in costume. What a great day of learning!
6th Nov - Classes plan to plant their poppy seeds as we are proud to take part in the 'Ribbon of Poppies'. Together with scouts and guides, we have pledged to plant poppies whilst supporting the Royal British Legion this week. These seeds will grow by the centenary of the end of World War One.
6th Nov - Thank you to Mrs Grieves for her inspiring assembly about Malawi and her work there using the money we raised in the Summer term.
3rd Nov - THANK YOU! To Mr. Gwynn and his team; our FOPS and staff team; parents and pupils past, present and future; and the local community for a wonderful evening of fireworks, fun and food.
3rd Nov - Wow! What a Celebration of Learning for this term's homework. If you do not already have the next date in your diary - 9am 23rd Feb 2018 - please do save the date as the learning on display at these assemblies is very inspiring.
1st Nov - the FOPS committee met in preparation for the dazzling and incredible fireworks display planned for Friday night. Do come and join us at 6pm on Friday 3rd November for a spectacular display and a great evening of entertainment for all the family.
31st Oct - Welcome back to our pupils, parents and visitors for the first day of an exciting new half term of learning!
30th Oct - Teaching staff attended a packed and exciting day of INSET training in preparation for the new term. This training included Clicker 7 training. Thanks to an AMAZING donation from Volac, we are introducing Clicker7 - a literacy toolkit - to all our pupils.
20th Oct - School is now closed to pupils until we reopen for lessons first thing on Tuesday 31st October. Happy Half Term!
20th Oct - Congratulations to our Hollands' Cup winner of our music award this half term.
20th Oct - Our Black History Assembly focused on black authors. Parents, staff and pupils were inspired by the works of Trish Cook, Mallory Blackman, Pharrel Williams, Langston Hughes and Joseph Coelho, Our pupils spoke about their lives, read poems, sang, danced and showed us pieces of artwork.
19th Oct - We were delighted to be given the opportunity to say 'Thank you Vicar' to Revd. Felicity on Thursday afternoon. Our pupils thought carefully about the importance of her job and the variety of roles that she undertakes. They were able to tell her that she was special.
17th Oct - Thank you to the parents who joined us at Parents' Evening to discuss your child's strengths, progress, attainment and next steps. If you have not attended or booked an appointment, please do see your child's classteacher to arrange this essential meeting.
17th Oct - Well done to the year 6 pupils who represented us at the small school football competition today and did us proud!
13th Oct - Well done to Yew class for holding their delicious FOPS cake sale.
13th Oct - School Council discussed how to further improve lunch time in school with classes and a CCS representative.
13th Oct - Rowan class assembly showcased their learning and they sang 'Search for the Hero'. We were very proud!
12th Oct - Year 5 and 6 visited West Stow and learnt many facts to support their ongoing topic in a hands on, exciting way.
5th Oct - Each class voted for a Health and Safety Representative. During the meeting, we discussed their roles and what it means to be a Health and Safety Rep in school. Each class has a book to record anything that needs addressing. The pupils are taking their responsibility very seriously.
5th Oct - We were again delighted to welcome more of our EYFS parents into school for lunch today.
3rd Oct - Well done to our year 5 representatives who participated in the County English Challenge. We were very proud of their teamwork and knowledge.
3rd Oct - It was delightful to welcome Rev. Felicity and Mr Holland back into school this term for Collective Worship.
3rd Oct - We were delighted to welcome parents of our new reception pupils into school to share a school lunch with us.
3rd Oct - Year 6 visited Ely Cathedral with Barrington School and many other pupils from around the Diocese.
29th Sept - We have raised nearly £200 for Macmillan Cancer Support. Special thanks go to Mrs Seiler who helped organise this. It was wonderful to see so many members of the community and old and new parents enjoying a delicious cake, cuppa and chat!
29th Sept - We held a reflective, thoughtful harvest service led by Revd. Felicity in church. Our pupils gave thanks for the food we eat and donated produce for Jimmy's Night Shelter in Cambridge. They understand how lucky they are and how we need to remember those who are not so fortunate.
28th Sept - We welcomed Mrs MacFarlane from Cambridge Catering Service into school to talk about our Healthy Lifestyles project.
26th Sept - Today we welcomed Mr John Lucas, our Ofsted inspector, into school.
25th Sept - We look forward to welcoming Ofsted into school tomorrow. Parents, please do click on the link to Parentview at the bottom of the page to share your views about our wonderful school.
22nd Sept - Big smiles could be see as individual and family photos were taken to send home and to update our welcome entrance board.
21st Sept - Mrs Miller led our assembly providing an interesting report on the items discovered at last year's archeological dig at Petersfield and at other locations in the village.
21st Sept - Thank you to Barrington School for hosting the Parenting Course taster session.
20th Sept - We are delighted to have been awarded our Bronze level Modeshift STARS accreditation as a result of our Travel Plan. Our aim, through this work is ensure safe, healthy and active travelling to and around our school.
20th Sept - Today our collaboration partner Headteachers - Mrs Davies from Barrington and Mrs Davies from Foxton - joined us in school and commented on the wonderful learning environment, high quality display of our pupils' work and the calm behavior.
19th Sept - We welcomed a member of the County Attendance team into school to review our Attendance procedures. More information to follow, but please do keep an eye on new weekly monitoring of our whole school attendance figure in reception.
15th Sept - Well done to all our wonderful EYFS pupils who attended their first full day at Petersfield!
15th Sept - Congratulations to those children who were selected to receive the first Headteachers' Awards of 2017-18 thanks to their great attitude to learning so far this term.
13th Sept - We were delighted to welcome Ute, who runs our school Book Club, to Collective Worship to share her new book with us and donate a copy. See the 'Notice' section of the website to follow the link to her recent article in the Royston Crow which we feature in.
12th and 13th - Thanks to those parents who attended our Curriculum Evenings detailing the plans and routines for 2017-18. If you were unable to attend, please see Thursday's newsletter which lists the paperwork to be sent home. Also, please do arrange a time to speak to your child's classteacher.
12th - Want to try your hand a circus skills? We enjoyed a skillful demonstration in Collective Worship to launch our lunchtime club.
12th Sept - Spanish could be heard in KS2 as Spanish lessons, taught by language specialist Mrs Clover, started this week.
11th Sept - Our new sports coach taught all pupils PE for the first time today. Well done to everyone for participating with such enthusiasm.
11th Sept - Book clubs restarts at Petersfield.
11th Sept - Miss Smith and Mrs Penrose joined cluster schools in additional dyslexia friendly training.
7th Sept - Magical Maths and Premier Sports launched our 2017-18 after school club provision in assembly.
6th Sept - Despite it being the first day back, the PTA met to plan events and allocate funding to purchase equipment for school. We are especially pleased they will again be making a contribution to funding visits this year to facilitate our exciting curriculum.
6th Sept - Welcome back to pupils, parents, volunteers and visitors! It was lovely to see the excitement on the playground this morning. Welcome especially to our new pupils and parents. We are delighted with the behaviour, presentation and learning occurring in school this morning. Well done!
5th Sept - All staff participated in Behaviour INSET as we prepare to revise our behaviour policy in the Autumn term.
4th Sept - Our teachers are working and training in school today in preparation for welcoming our pupils back on Wednesday 6th September.
Summer Term 2017 Events
21st July - School is now closed to pupils for the summer holiday. We look forward to welcoming pupils, parents and visitors back to school on Wednesday 6th September. Have a wonderful summer holiday!
21st July - Today we celebrated the fantastic learning during 2016-17 as children returned to their old classes for the afternoon and we said good bye to pupils and staff who attended Petersfield for their last day.
20th July - Rowan's Got Talent! and they showed this to the whole school and their parents.
19th and 20th July - Our new reception children for September 2017 met Mrs Robichaud and visited our school to prepare for their exciting September school start.
19th July - Mrs Johnson introduced the Summer Reading Challenge - how much can you enjoy reading this summer?
19th and 20th July - Using their vast knowledge of Petersfield, our year 6 pupils produced a 'Transition Booklet' to support new parents and pupils who join our school.
19th-21st July - Our new transition arrangements were a huge success. We are now all prepared, ready and enthusiastic to start on the first day of the Autumn Term (6th Sept)!
18th July - The Year 6 Leavers' Assembly demonstrated perfectly why we are so, so proud of our year 6 pupils!
17th July - The Year 6 Tea Party speeches eloquently thanked all those who have enabled our wonderful year 6 pupils to be the successful, confident and social group that they are.
17th July - Our Church Service of Thanksgiving celebrated the success of 2016-17 and gave thanks for our wonderful year 6 pupils who were presented with a Bible each.
14th July - 'Oh I do like to be beside the seaside'...our seaside lunch took place whilst our gardening club worked hard to ensure we continue to grow our own produce!
13th July - The Full Governing Body (FGB) met in school to review the 16-17 academic year and continue to plan strategically for the 2017-18 school year.
13th July - Our French lunchtime club confidently shared their exciting language learning with pupils and parents in assembly today.
13th July - We are absolutely delighted to have been awarded the Silver School Games Mark award in recognition of our commitment, engagement and delivery of competitive school sport in 2016-17.
12th July - Thanks to all our parents, grandparents and Governors who joined us for our Open Afternoon and Certificate presentations today.
12th July - Rowan class reacted at REActive Church today.
11th July - Year 6 organised an exciting cross curricular morning of activities for the whole school. 'When can we do it again?' pupils asked after sessions including sport, drama, mapping skills, computing and art were thoroughly enjoyed.
10th July - Yew class celebrated their hard work and recent achievements with a visit to St Neots, practising their bowling skills and visiting Priory Park.
10th July - Ash and Elm participated in an exciting exploration of Hinchingbrooke Country Park which included a session pond dipping.
7th July - Today Hazel class participated in REActive church. This always gets our pupils thinking and asking questions!
6th and 7th July - Year 5 pupils enjoyed a taste of secondary school as they attended BVC.
6th July - Today it is the turn of our CVC year 6 pupils to attend the first of their 2 transition days which includes sports day.
6th July - Pine class were the first to learn from the KS2 REActive Church summer sessions which are planned over the next two weeks thanks to Rev. Felicity and church volunteers.
5th July - Mrs Peachey and Mrs Squires have begun the Home Visits to new reception pupils for 2017. We very much value the home school partnership which is essential to ensure all our pupils thrive.
5th July - Mrs Daw, Mrs Slator and Mrs Tovey received awards at the Governor Service 'Celebrating Success' Presentation Evening. This recognised their outstanding contribution to governance at Petersfield over many many years.
5th July 2017 - The final performance of Alice was a resounding success! What a musical extravaganza!
5th July - An exciting day of Science for our year 6 BVC pupils. This is the first of a series of planned transition days to support a smooth continuation of our pupils learning journey as they move to secondary school.
4th July 2017 - Thank you for all the wonderful comments about our amazing KS2 production performed this afternoon and evening. We are VERY proud of our school team - pupils, staff and volunteers who made these performance possible and so entertaining!
3rd July - 'Alice' at Petersfield - our KS2 pupils performed the dress rehearsal to KS1 and our visitors. What a delight and what catchy songs!
1st July - Thank you to our amazing PTA - today's Petersfest was a triumph and raised the huge amount of £1782.03! A stunning amount and much needed fundinging for the school. Thank you to all those who attended or worked tirelessly to supporting our school!
30th June - We now have our own 'hedgehog house' thanks to the Elm class project!
29th June - Cooperation and a competitive spirit were both evident during the buddy group activites and races at our well attended Sports Day. Our thanks go to Mrs Peachey for her planning and organization to ensure the event was a huge success.
23rd June - Our PTA AGM was attended by our dedicated committee and volunteers who raise such vital funds for the school. Please do ask any member of the PTA or ask at the school office if you can help with the upcoming events.
23rd June - The Music Marathon was an amazing event, the singing was truly beautiful and the musicians were inspiring. We were delighted to be joined by parents and members of the community. We hope to have raised a good amount of money for The Cambridge Cancer Help Centre.
22nd June - You really know it is the summer term when the Sports Day practices start. Our buddy groups, as ever, worked cooperatively before children had the chance to practice the competitive races. Please do join us for our Sports Day morning on the 29th of June if you can.
21st June - Our thanks to Jacquie McBride for leading the singing practice in preparation for our Music Marathon this Friday. Do join us on Friday afternoon if you can!
20th June - Despite the heat, our year 4s did us proud as they represented our school at the Mini Olympics competition, joining many other Cambridgeshire schools in this energetic and competitive day.
19th June - Don't forget school is closed to pupils for the Staff INSET training on Monday 19th June. We look forward to welcoming pupils, parents and visitors back to school at 8:45am on Tuesday 20th June for another busy and exciting week of learning.
16th June - Thank you to all the dads who were able to join us for Fathers' Day lunch and afternoon. The variety of fun activities including mint and lemonade based physics, gingerbread and collaborative 'three handed parcel wrapping' emphasized all our new school values in particular love.16th June - Thank you to all the dads who were able to join us for Fathers' Day lunch and afternoon. The variety of fun activities including mint and lemonade based physics, gingerbread and collaborative 'three handed parcel wrapping' emphasized all our new school values in particular love.
16th June - Wow! What a difference 1 gardening session has made to the Growzone thanks to the community volunteers and pupils who attended our first new Gardening Club. We look forward to reaping the rewards of the planting.
15th June - We were delighted to welcome our new reception parents for September 2017 to our 'New Parents' Evening' tonight. As ever, this evening was an exciting first step together in our new pupils' educational journey.
15th Jun - Mrs McBride inspired our pupils to sing in today's Collective Worship in preparation for next week's 24 hour music marathon.
14th June - Our thanks go to Ash class and our parent helpers for the PTA cake sale. The cakes looked and tasted delicious whilst raising money for school!
14th June - What wonderful smiles from all during our class photographs!
13th June - Thank you for supporting our Book Fair over the last week. Our pupils enjoyed browsing the selection of books perfect for avid readers.
12th June - 3 classes welcomed a specialist sports coach into school to improve their athletics skills.
12th June - Essential skills for road safety and cycling were being demonstrated by Yew and Rowan today at the start of this week's Bikeability training.
9th June - The website images provide just a flavour of the spectacular independent learning from the half term homework menu challenge. This learning was shared in Assembly today with parents, pupils and Governors. Governors then held the first of their new sessions to seek feedback from parents.
8th June - In Assembly, as a school, we discussed what a general election is, how this relates to British Values and democracy and prepared to vote for our school motto.
7th June - The first two of the specialist coaching sessions from our local tennis coach at the Orwell tennis courts, funded by the Sports premium, started today to encourage our children to enjoy more sports. We are very fortunate to have a fantastic tennis club and facilities on our doorstep.
5th June - Welcome back to a busy and exciting half term of learning. To start the term, as a school, we reflected on excellent learning behaviours and how we best care for the school environment.
26th May - Swimming continues at Petersfield after the half term holiday which starts today. This is very popular: 'I love swimming, especially when it is hot!', 'It's the best thing ever!'
15th - 26th May - We are delighted with how resilient and hard working our year 2s have been during the SATs weeks which are now complete. Despite the hot weather, they all worked through the papers with enthusiasm and smiles to the very end!
26th May - Our new Health and Safety Representatives joined staff and governors to discuss the importance of the role and conduct a site walk. They were so excited to take on the role and identified completed actions and next steps.
26th May - Our dear friend, Mr Hollands, presented the Hollands Cup for Musical Achievement to Jessamy. She had been nominated by our piano teacher for her enthusiasm and determination to challenge herself.
25th May - Our thanks go to Mrs Crafter for her science session with Rowan class. Our pupils were very enthusiastic and engaged scientists.
25th May - At our Elm class cake sale, those purchasing said 'the cakes were wonderful', Elm class reported that they 'enjoyed selling and eating them'! Thank you for supporting the PTA at this event.
25th May - Following the NSPCC workshops in school, our pupils said 'It was really helpful and reassuring' and 'I know that I can phone Childline if I have a worry'.
19th May - The School Council organised their whole school 'PJ run' to raise funds for school. We were delighted to welcome parents (described by our pupils as 'very supportive'). Parents said it was 'wonderful'! Our pupils said it was 'tricky', 'fun' and identified how they 'did not give up'.
18th May - Petersfield welcomed the NSPCC into school to support pupils to be confident to 'Speak Out, Stay Safe'. Pupils reported 'It really helped me' and 'I think Buddy was right to say those things'.
18th May - Year 5 also fielded a talented team of mathematicians for the Year 5 County Challenge - different competition and venue, same day!
18th May - Year 6 put forward a fantastic team for the 'Maths Challenge' competition. They enjoyed working as a team, rising to the challenge and meeting new people.
15th May - Much excitement was evident in school as the Swimming season started today.
14th May - Entertainment and amusement was had by all at the 'Pop Up' Circus organized by the PTA. The juggling clowns and the magician were particularly enjoyed!
12th May - Year 6 enjoyed a VERY well deserved 'post SATs picnic' before continuing with their learning for their last weeks at Petersfield.
8th - 11th May - We are SO proud of year 6 pupils. SATs demonstrate only one aspect of all the brilliant and talented pupils that we have in year 6 but they have all excelled in their attitude and effort of this element this week!
5th May - The pictures on the Pine Class webpage illustrate the amazing visit that inspired and educated our pupils as they continue to learn about the Rainforest.
3th May - Thank you to those parents who joined Mrs Peachey and Mrs Johnson for the phonics and reading workshop for parents. The presentation is now available on Ash and Elm class pages.
28th Apr - Ash class shared their 'pirate' learning in their class assembly through counting, facts and by walking the plank! We were especially proud of their confidence and clear voices.
26th - Our dedicated PTA members braved the cold to continue selling tickets to the fabulous 'Pop Up Circus' on the 14th May. Click on the link below (in the Notice Section) to find out more or catch them in the playground after school!
26th Apr - The Cambridge Picture Book shortlisted entries were introduced today ready for the grand vote next week!
25th Apr - Following our Kingswood meeting for parents and pupils, we look forward to the residential visit for year 5 and 6 next year.
20th Apr - Our archery club has been launched with a whole school assembly.
19th Apr - We are very proud of the Year 5 and 6 Cross Country runners who represented our school in the County Competition.
18th Apr - Welcome back to the Summer Term at Petersfield as school reopens after Easter.
Spring Term 2017 Events
1st Apr - The school's outstanding 53 percent increase in funds raised to support the Royal British Legion, through the 2016 Poppy Appeal, was recognised at the award ceremony where Petersfield pupils received their certificate from the Lord Lieutenant.
31st Mar - School closes today for the Easter break. We look forward to welcoming pupils, parents and visitors back to school on Tuesday 18th April.
31st Mar - A beautiful reflective service at church to end our Spring term. Pupils, staff and parents considered the plight of refugees and then reflected and gave thanks for all our blessings.
30th Mar - Hazel class were final KS2 class to attend Reactive Church over the last 2 weeks to reflect on the Easter story.
29th Mar - As well as scoring multiple tries as a class, one of our Hazel teams was awarded the 'Spirit of the Games' for their outstanding team ethic at the Tag Rugby competition. We are very proud!
27th Mar - Thank you for your support to raise money for school funds at the successful (and tasty!) Pine Class Cake Sale.
27th Mar - Ash and Elm class visit to Shuttleworth was described as 'Amazing'. 27th Mar - Hazel class enjoyed a hugely enjoyable and successful class visit to Tescos to summarise their learning this term.
24th Mar - Thanks to the wonderful Bikeability trainers, Hazel and Pine class learnt how to maintain their bikes, how to balance, about road safety and how to change gears.
24th Mar - We raised an impressive £118.00 for Comic Relief with our Dress Down Day. Pupils told their favourite jokes including: Knock, knock, who's there? Justin. Justin time for tea. What do you call a 3 legged donkey? A wonky. Why was 6 scared of 7? Because 7,8,9.
24th Mar - Congratulations to those who received certificates for taking part in the CAYAC(Cambs Area Young Artists) competition. Also congratulations to the winners of competition to dress up as characters for World Book Day who were awarded a book token.
23rd Mar - We were delighted to welcome 48 mums into school for our Mothers in School Lunch and Afternoon. Our mums had a lovely session including being serenaded in Collective Worship and creating water colour picture and constructing frames. Some of this art was given out in Church on Sunday.
22nd Mar - Thank you for the overwhelming support of the 'Fairer Funding' Consultation response. There is still time to write to your MP and sign our petition.
21st and 22nd Mar - We welcomed parents into school for Parent Teacher Consultations. We highly value this collaboration.
17th Mar - We are delighted that we now have a well established programme of pupils performing their musical talent at the start of Collective Worship on a Friday.
17th Mar - Congratulations to our Holland's Cup winner for their contribution to music at Petersfield.
14th Mar - As a school, we considered how we keep ourselves safe before Mr Carter introduced our new E-Safety policy.
10th Mar - 'Fantastic' commented one parent after Elm class shared their learning in their Class Assembly.
1st March - Personalised illustrations and messages from Matt were recorded in the popular after school book signing during which the children's World Book Day art work and illustrations were on display to parents.
1st March - Matt Long, author of Super Happy Magic Forest, was delighted with the participation of all our children and adults on World Book Day. After an assembly where we shared our book character costumes, we drew illustrations in class based sessions.
28th Feb - Delicious pancakes were made on Shrove Tuesday.
24th Feb - 'Outstanding' is the best description of the Homework presented by all year groups in Assembly.
20th Feb - Welcome back to Spring Half Term 2. The homework projects that are now being brought into school look interesting, colourful and exciting. We very much look forward to the learning we will be hearing about in the celebration assembly this week.
10th Feb - We were delighted to celebrate the Learning in Hazel class as they led our collective Worship.
9th Feb - We are delighted to announce that our new School Values - voted for by everyone who attended - are Friendship, Creation, Love, Peace and Trust.
8th Feb - As ever, our pupils rose spectacularly to the challenge and presented our 9 shortlisted values through dance, poetry, wordles, weaving, geography, drama, art, and outdoor activities. Everyone present voted for our new School Values to be announced tomorrow!
7th Feb - As part of their curriculum topic, Rowan and Yew class visited the Fitzwilliam Museum, which as ever was interesting, exciting and educational.
3rd Feb - Congratulation to our Holland's Music cup winner Ella!
2nd Feb - We raised over £150 for Allayance to fund essential playtherapy in our school thanks to the Non Uniform Day fundraising.
1st Feb - Petersfield's Proud Open Morning showcased maths, the resources we use and the calculation policy to parents.
1st Feb - Following a vote in Collective Worship for the final value as we had a tie, we have shortlisted our nine values in preparation for our Values Day on the 8th Feb.
31st Jan - We are incredibly proud of our year 4 team who entered the Maths Challenge at St Faith's school and came 20th out of 34 schools on their first entry.
27th - Our pupils and staff voted for the Values in the shortlisting activity in advance of our Values Day on 8th Feb. Parents, please do continue to return your votes.
27th - We were delighted to welcome so many parents into Pine class' presentation of their current curriculum topic food. Their ideas were presented through poetry, music and drama during Collective Worship.
26th Jan - The Antidiscrimination assembly, delivery by Mr Rome from Cambridge United, generated lots of ideas about how we can be more inclusive in sports. The children related this to our current Values consultation.
25th Jan - Hazel class welcomed Mrs Hollins to talk about the important work of Cambridge Food Bank as part of the curriculum topic 'food'.
20th Jan - Rowan class, who have been learning new programming skills thanks to the support of The Technology Partnership plc (TTP) and David Anderson, were filmed designing and making Lego 'frogs' move.
16th Jan - Xavier and James wrote an acrostic poem to celebrate this exciting sports opportunity for KS2. Archery, Right hand grip, Careful aiming, Hard pull back, Extra fun, Racing arrows, You must be sensible.
13th Jan - Congratulations to all those who took part in the recent Mathletics challenge! In our Headteacher award, we celebrated the successful maths work from the last month.
11th Jan - Cambridge United started this term's fun and energetic sessions.
9th Jan - Plough Monday, the first Monday after Epiphany, was marked at Petersfield by dancing thanks to the Molly Dancers who taught Rowan and Pine class two traditional dances. The demonstrations in assembly were very impressive!
6th Jan - We are delighted with the carefully considered contributions to our Christmas values task. All your thoughts and ideas will help as we work together to revise our school values this term.
5th Jan - Our youngest pupils demonstrated their 'Balancability' on the bikes today.
5th Jan - Well done to our pupils for the very positive start to Spring 2017.
4th Jan 2017 - Our new teaching team attended inspiring INSET training led by, our writing subject leader, Mr Ashford.
Autumn Term 2016 Events
20th Dec - Thanks to parents for providing such a wonderful feast for our Christmas parties. Santa obviously agrees with our assessment that our pupils behaviour has been very good this year as Father Christmas visited each and every pupil.
20th Dec - Well done to our year R and 6 pupils for telling the Christmas story at church. The whole school carol singing was brilliant! Our thanks to Rev Felicity and Mr Hollands. Also to the Policemen who happened to be nearby who beautifully illustrated Ash class' 'People who help us' topic.
19th Dec - Christmas Dinner was a wonderful meal, shared with the whole school. Our thanks to our catering team, the PTA for the crackers and our pupils and staff who truly entered into the Christmas spirit!
16th Dec - As part of their 'Mountains' topic, we were delighted to welcome Mr Sutton into school to inspire Rowan and Ash class following his successful Three Peaks Challenge.
16th Dec - Congratulations to our Holland's cup winner, Felix, for his outstanding contribution to music at Petersfield during Autumn half term 2. Particularly impressive where his rhythm and creativity.
13th Dec - Carols and readings in the stable block at Wimpole. Our thanks to Mr and Mrs Williams, Wimpole Farm staff and our parents, governors, staff and pupils - past and present - for a fabulous evening.
13th, 14th and 15th Dec - We are SO proud of our EYFS and KS1 pupils who were amazing in their Dress Rehearsal and 2 performances. The singing, acting and dancing were fantastic as they told the Christmas story in the 'Sleep Shepherd'.
12th Dec - Year 6 were delighted to be invited to join the local community singing carols at the Methodist Church.
9th Dec - Rowan class assembly was very thought provoking and inspiring.
6th Dec - Dancing, light sticks and fun at the PTA School Disco, thanks to Will (our DJ) and the dedicated group of PTA parents and our school staff!
6th Dec - The first of our KS2 classes were offsite to participate in REActive Church. Thanks to Rev. Felicity and her volunteers for these exciting and thought provoking 4 sessions for KS2 before Christmas.
2nd Dec - Thanks to all the Parent Teachers Association (PTA) members for the Christmas Fayre. Money was raised for school funds whilst as providing fun and Christmas gifts. Pupils reported 'I liked the Year 6 games...there were lots' and 'I liked running the stall so other people can join in'.
2nd Dec - Christingle service at church. This is always an event that inspires awe and wonder. Pupils said 'I liked blowing out the candles', 'I really enjoyed singing the Christingle songs' and 'It is very important that we have Christingle as it refreshes our minds about Christ and God'.
1st Dec - Decorations Day at Petersfield. Our pupils said 'It's great having your mum or dad in to share the fun' and 'It was enjoyable making the Christingle'. Thanks to all the parents who joined us and helped make Petersfield festive.
29th Nov - At the Cross Country there were over a 1000 children competing and we are very proud of all the children who took part. They all tried their very best and had a great time. We even had some super finishing positions with children from Petersfield finishing in 5th, 9th and 10th.
25th Nov - Road Safety Week and Assembly: Ash class learnt how to cross the road safely and sang about safety. Elm class produced road safety posters. Hazel class used verbs connected with road safety. Pine role played and wrote instructions. Rowan class wrote poems and Yew class held a debate.
21st Nov - The GenR8 team led our Collective Worship. As ever, GenR8 captured pupils attention with their songs, waves and stories and left pupils to reflect on the message.
18th Nov - Our Anti-bullying week culminated in an assembly which delivered a powerful message from all our classes and the School Council about being a good friend, the effect of exclusion and unkind words and strategies for preventing bullying in the form of talks, pictures, role play and posters.
18th Nov - Fundraising for Children in Need at Petersfield.
16th Nov - A group of year 4 and 5 children were trained as 'play leaders'. This will mean they can run activities for children in KS1 at playtime and lunchtime.
15th Nov - We were very proud of the children in Years 4 and 5 who took part in the Small Schools Tag Rugby competition. They had a great time and played really well as part of a team against some much older and more experienced teams. For some of our team this was their first competitive event.
11th Nov - Pupils (with their created poppies) and staff joined Bob Bryant (British Legion) and the Standard Bearer in school to reflect on Armistice. Year 6 represented Petersfield in the village as the whole school observed the silence at 11am.
4th Nov - Thanks to the amazing work of our PTA and the spectacular fireworks display provided by Steve, we raised lots of money to support our school whilst having a thoroughly good time! Thanks to pupils and parents (past and present) and members of our local community who enjoyed this with us.
4th Nov - 'Phenomenal' was the best description we heard to sum up the homework celebrated at our sharing assembly. From volcanoes, to bats in a box and stone age tools - what fantastic half term challenges.
31st Oct - Our teachers joined other cluster schools on our INSET day to learn about 'Write Away' designed to help improve all pupils' writing.
21st Oct - Stand Up to Cancer Day raised over £900 on the day - do please visit our Just Giving page to donate. Pupils had wacky hair, dressed down, sold cakes and enjoyed being the teacher. Pupil comments included a plan to be strict and a question for teachers 'How do you manage it?!'.
21st Oct - We are very proud of Ben who was awarded the Holland's Music cup for his enthusiasm and self motivation. He is a role model to others as he is always practising and keen to improve.
18th Oct - Congratulations to our year 5-6 football team for their excellent team spirit in the cluster competition. 7th was a great achievement and the first game was won 5-0 despite the heavy rain!
17th and 18th Oct - Parents' Evening at Petersfield with the opportunity for parents to have a sneak preview of the stunning whole school poppy Remembrance display.
17th Oct - We are incredibly proud that Petersfield was represented on the successful Cambridge United Under 11s Latvia Tour, the first of the season starting with a tournament win.
12th Oct - Following a visit last week from a tortoise, Elm class welcomed a pet snake into school as part of their snake topic. Many thanks to the pet owners for such an interesting visit.
11th Oct - We were delighted to share in the excitement and enthusiasm of our returning year 6 pupils who learnt about Christian Aid at the Ely Cathedral Day.
5th Oct - Congratulations to our 'Gobblefunk' Roald Dahl Day fabulous words winners announced in assembly today.
3rd-5th Oct - Today we welcomed our first new reception parents to share lunch with us. Well done to our Mums, Dads and pupils who received clean plate stickers! We appreciate the comments reflecting how much you enjoyed the event and look forward to the next parent lunch on Decorations Day.
30th Sept - We were delighted to welcome members of the school and local community to our Macmillan Fundraising Coffee Morning (raising £140) and our 'Petersfield's Proud' Internet Safety and Art showcase.
30th Sept - Our first Headteacher Awards of Autumn 2016 (with our Celebration Collective Worship now being led by our Year 6 pupils) recognised the work and learning behaviours we are most proud of. Please see our weekly 'Petersfield Press' for more information.
28th Sept - CONGRATUATIONS! To our first Writers of the Week: Alice, Emma, Nicolas, Noah, Thomas, Liam. Please visit Mr. Ashford's class page to find out more.
27th Sept - Rowan and Yew class explored Chapel Orchard as part of their science topic work.
23rd Sept - Our Service of Thanksgiving reflected on our many uses of water. The preserved food was donated to the Jimmy's Night Shelter whilst money was raised to go to All We Can - helping to provide clean water in Uganda and other countries.
22nd Sept - Our PTA AGM demonstrated that we are incredibly lucky to have a small but dedicated and enthusiastic PTA team who raised £1000s last year for our school library. If you would like to get involved, please do ask at the school office for more information.
22nd Sept - Thank you to our volunteers who attended induction.
13th and 14th Sept - We welcomed a significant number of our parents to our Curriculum Evenings to hear about the timetables, curriculum, homework, Learning Links and very high expectations for 2016-17. If you missed these evenings, please see your child's classteachers to find out more.
13th Sept - Watch out for the ENORMOUS crocodile lurking in school, made by our pupils as just part of our Roald Dahl day.
6th Sept - Governors attended the first FGB meeting of 2016-17 to plan the strategic direction of Petersfield. Do you have the skills and enthusiasm to join our Governing Body?
5th Sept - We are incredibly proud of our pupils for their very positive attitude to learning on the first day of the 2016-17 school year.
Summer Term 2016 Events
21st July - Time to say a final goodbye to staff and pupils who are leaving us this year as we looked forward to and exciting new academic year in September.
20th July - Rowan classes considered how to stay safe during their drama day.
19th July - Our fabulous year 6 showed us just why we are so, so proud of them as they produced their final, Oscars inspired, Leavers' Assembly. Good luck year 6!
18th July - Our Leavers' Thanksgiving Service led by Reverend Felicity and our pupils.
15th July - Rowan and Yew class explored crime and punishment at the Tower of London (and enjoyed an ice-cream!)
14th July - Pine class at Reactive Church.
12th July - Great fun and fantastic dancing, thanks to the splendid organisation by the PTA and our fantastic DJ Will, at the Summer Disco.
11th July - We were delighted to welcome parents and grandparents into school to read together, celebrate progress shown in books and enjoy the presentation of swimming, Mathletics and Bikeability certificates.
8th July - Ash class got up close and personal with a variety of animals at Paradise Wildlife Park.
7th and 8th July - Year 5 enjoyed curriculum days at BVC.
6th July - Year 6 visited BVC for 'Move up Day'.
5th and 6th July - A member of the audience reported that the KS2 production was the best school play they had ever seen - it got better and better each performance.
4th July - Wow! Porridge, our KS2 production, dress rehearsal was a real success with lights, fabulous understudies and fantastic singing!
28th June - Hazel and Pine pupils are super scientists at the Science Museum in London.
25th June - races, games, stalls, a raffle, face painting, a BBQ, a wonderful atmosphere, lots of fun and much, much more at our fabulous PTA Summer Fayre fundraiser. Thank you to everyone who helped and everyone who attended.
24th June - Well done to everyone who took part in Sports Day and thank you so much to our school community for the fantastic support. This year, our deserving winning team were Green team!
23rd June - Pine and Hazel's turn to visit Wimpole.
22nd June - We are very proud of our Year 5 representatives who participated in 'Mathsfest' with local cluster schools.
22nd June - Ash and Elm class visit Wimpole
Wednesday 22nd June - Elm and Ash classes explored the Capability Brown installations in the ground of Wimpole despite the variable weather.
16th June - Petersfield Archaeological Dig found a possible piece of medieval pot.
13th June - GenR8 led our Collective Worship.
13th June - Bikeability was enjoyed by year 5 and 6 despite the rain!
10th June - Petersfield's Proud showcased the wonderful and varied project work from this term's Home Learning project to pupils and parents.
10th June - Our school community dressed in red, white and blue and enjoyed a picnic lunch as we celebrated the Queen's birthday.
10th June - Sue Miller outlined the exciting plans for the 'Petersfield Dig' to the whole school.
7th June - Learning about photosynthesis, plants, trees and flowers and making leaves out of clay were just a few of the exciting and challenging learning opportunities enjoyed by Elm class at Stibbington.
25th May - Rowan and Yew classes were inspired by Scene: a new way of looking - celebrating the 300th anniversary of the birth of Capability Brown - whilst visiting Wimpole Hall.
19th May - Year 5 girls initiated, planned, baked and raised an amazing £79 from the cake sale for our school. Wow!
13th May - Well done Elm class for raising over seventy pounds for the PTA whilst providing the school community with delicious cakes.
9th May - We are incredibly proud of our Year 6 pupils who started SATs week by maintaining their hardworking,calm and confident attitude through the Reading SAT.
5th May - Our reception pupils enjoy Forest School activities.
3rd May - Our School Council raised funds to plant the front entrance flower beds according to their design with their successful teddy bear sale.
29th April - Our second successful PTA Friday Cafe was well attended. Thank you for supporting fundraising for our school.
22nd April - Ash class shared their spectacular learning and led Friday's Collective Worship.
20th April - Even higher expectations are agreed as pupils and staff implement the new presentation standards and Marking and Feedback Policy.
18th April - First day back for the Summer Term and pupils are treated to a sight of the engines moving.
Spring Term 2016 Events
2nd April - Pupils receive the award from the Lord Lieutenant in recognition of our fundraising for the British Legion.
23rd March - Easter Service at St Andrew, Orwell. We all built a whole school cairn in the graveyard before the service.
21st March - We were delighted to welcome so many parents into school for Parents' Evening, continuing our close working partnership.
18th March - Whole school fundraising and fitness at the Sports Relief Challenge.
15th March - Delightful treats and fundraising at the Hazel PTA cake sale.
11th March - Hazel class lead our Collective Worship and shared their learning this term.
8th March - Fantastic fun and fabulous fundraising at the PTA Chocolate Bingo.
4th March - A morning of Mothers' Day activities and a shared lunch.
3rd March - Staff and pupils shared books and dressed as their favourite character for World Book Day.
26th February - Wow! What a fantastic display of Home Learning in our sharing assembly.
11th February - We welcomed Mr Lancaster to school for our SIAMS Church School Inspection.
10th February - Mrs Gwynn and Mrs Penrose were delighted to be appointed as Co-Headteachers of Petersfield.
3rd February - Parents and Governors were invited into school to see our work on SMSC, British Values and E-Safety.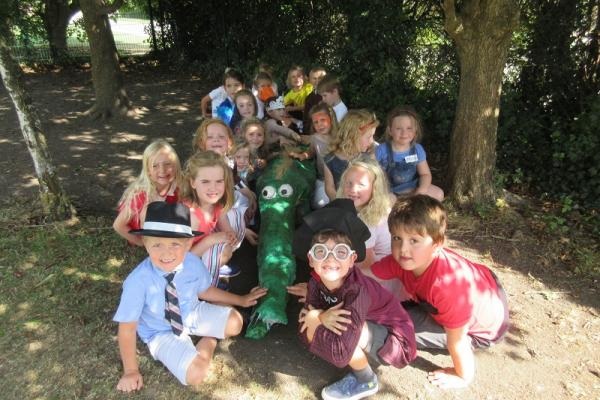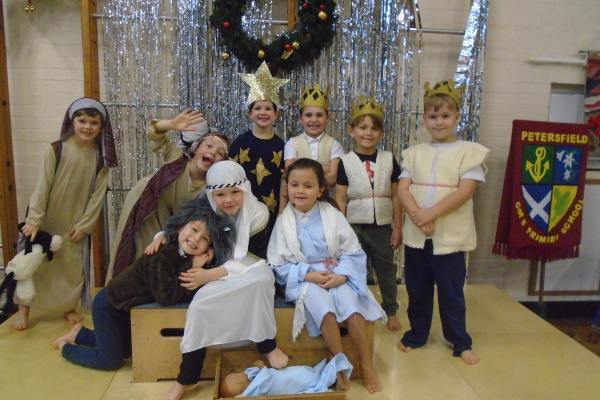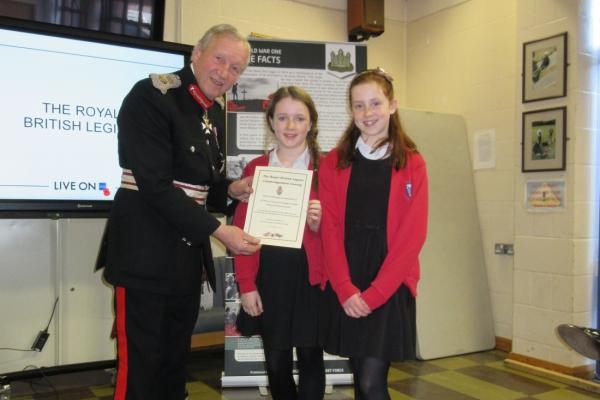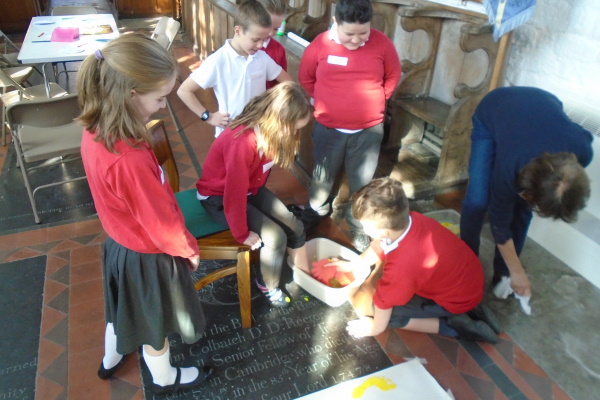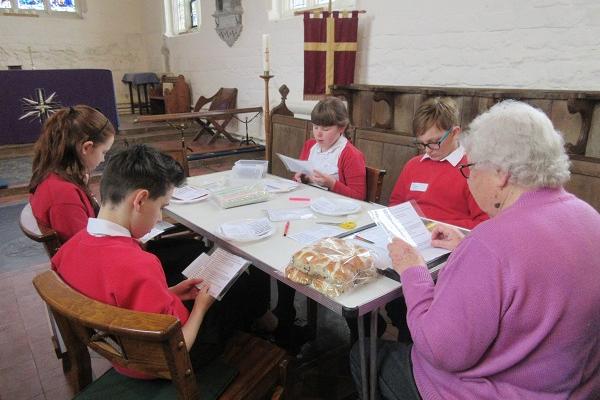 Latest News
20th Mar - Thank you to all those parents who attended tonight's Parents' Evening. We very much appreciate you taking the time to fill out our questionnaires and speak to Governors. Please do contact school if you have not yet arranged your appointment as this close home school liaison is vital.
20th Mar - Puffins pupils were delighted to received their morse code certificate today thanks to our local experts Peter, Martin and Eric. Puffins are very much looking forward to the 'advanced' session next.
20th Mar - Thank to Rev Felicity for supporting the pupils who led our collective worship today.
16th Mar - It is always a pleasure to hear about the learning successes of our pupils in the Hedteachers' Awards assembly.
16th Mar - Rev. Felicity joined pupils to collaboratively plan our Lent church service which we hope you can join us at. The service is at 9:30am on Wednesday 28th March.
16th Mar - We were delighted to welcome Mrs Murfet into school to lead science activities with science club and two classes as part of British Science week. Exciting activities included lava lamps, George's marvelous medicine and rainbows!
16th Mar - Yew class participated in REactive Church today. Thank you to volunteers who make this possible.
14th Mar - Thank to Pine class and the school community for making the FOPS Pine cake sale such a fundraising success whilst enjoying tasty treats!
14th Mar - It was wonderful to welcome Mrs Bonfield back into school today to launch our handmade values bears. We are very grateful for her skill and time to make these for us. They are a beautiful replacement for the much loved values dolls which represented the old school values.
14th Mar - Rowan class attended the first of the REactive Church sessions as we prepare for Easter.
12th Mar - We were delighted to welcome Andy Richardson, from local business Volac, into school today to view Clicker7 and talk to the pupils about it. We are incredibly grateful to Volac for purchasing this fantastic educational software that can be used to support learning at home and school.
9th Mar - We were delighted to have so many mothers and female carers in school for lunch and Mother's Day activities. Pupils worked with their mums and grannies to make bridges, plaques, towers and also took part in a scavenger hunt!
9th Mar - In our Elm Class assembly, they shared their learning about Great Britain through artwork, oracy, music, songs and a wonderful retelling of the Feeding of the 5000 Bible story.
7th Mar - Pine Class walked up to Wimpole Hall Farm as part of their 'United Kingdom' topic focusing on their local area. Whilst there, they took part in an activity making butter in the Victorian dairy.
5th Mar - Mrs Grieves launched 'Malawi Monday' our fundraising challenge to cover her giant map of Malawi in donated coins. These funds will be taken to Malawi in August 2018 to continue the charity work of providing useable school building and resources for children to learn in.
Latest Publications
Notices