How Can We Help
At Petersfield, we highly value our parent and community partnership. Together, we strive to provide the very best education possible for all our pupils.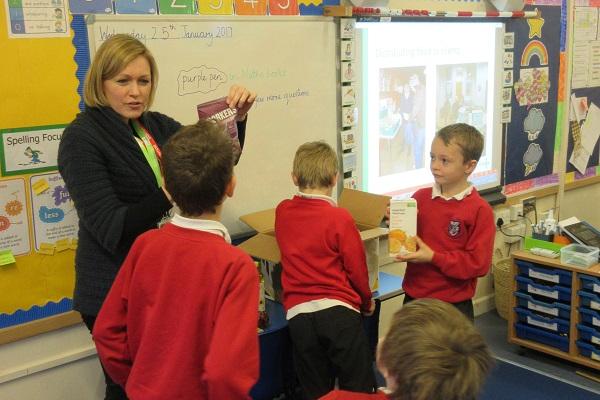 If you are unable to find out the information you require or answer your question from the information below, please do speak to the School Office team – Mrs Helen Sutton and Mrs Vimi Ahuja - in person following the signs to the main entrance at the front of the building, by telephone: 01223 207382 or via email: office@petersfield.cambs.sch.uk) regarding any query about an aspect of school life.
Admissions information, regarding your child starting at our school, can be found here.
After talking to parents, Frequently Asked Questions about most aspects of school life have been answered in our Parent Information Pack. This can be found online here or as a paper copy in the school entrance.
Information on how we keep are children safe – in school, as individuals and online (E-Safety) - can be found under the 'Safeguarding' dropdown menu on our website or by clicking here.
Key policies can be found here. Summary leaflets explaining them can be found on the same webpage or as a paper copy in the school entrance.
Information on the school curriculum, including assessment can be found under the 'Curriculum' dropdown menu or by clicking here.
Term dates are published online and in the school entrance and on the playground notice board. A full list of calendar dates for each academic year is published in September annually and can be found in the entrance and playground or by clicking here.
Our attendance policy and summary leaflet can be found here. The leaflet is also available in the school entrance.
Should your child need medical support – short or long term – please click here to find out more. Our summary leaflet is available online and in the school entrance.
Uniform information is located here.
Information about school meals can be accessed here.
A link to our school milk provider can be found here.
Should you need to make an Online payment, you can log into ParentPay here.
If you are in receipt of certain benefits, your child may be entitled to Free School Meals and the Pupil Premium. If so, it is essential that you claim this financial support for your child and more information can be found here.
Information on Puffins, our Out of School Hours club, can be found here.
Want to find out more about school clubs? Click here.
More information on our fun and excellent fundraising PTA can be found here.
Should you have a query about your child, your child's classteacher(s) is best placed to help.
Please do look at your child's website class page: Ash, Elm, Pine, Rowan and Yew to find updated information about the curriculum, homework and to see the pictures of the class at work.
Classteachers are available on the playground at the end of each day as they dismiss pupils. Please do speak to them once all the pupils have been discharged into the care of their parents/carers.
Alternatively, an appointment can be made by contacting the office.
Not sure who to talk to? Our staff and governors information detail who we are and what we do. A member of the Senior Leadership Team – usually the Headteachers – are available on the playground each morning and evening. Governors attend most of our school events and wear an orange lanyard. Their photos, and those of all our staff, are displayed in the school entrance. The contact address for our chair of Governors is via the clerk – clerk@petersfield.cambs.sch.uk
Mrs Penrose is our SENDCo (Special Educational Needs and Disabilities Coordinator and Inclusion teacher). She is available on the playground at the start and end of the school day on Monday and Tuesday or can be contacted via the office. Please do look at our SEND webpage to find out more about support at Petersfield and the County 'Local Offer'.
Mrs Gwynn leads our pastoral and behavioural support. Our summary leaflet is available online and in the school entrance.
Should you remain unable to find the information you require or resolve any issues, please do make an appointment to speak to the Headteacher and we look forward to working together to resolve the matter.
If we remain unable to resolve matters, our formal complaints process is available here and on our policy page. Before the formal processes are invoked, every effort will be made to resolve matters informally with the relevant member of staff, Senior Leader, Headteacher or Governing Body. The formal Complaints Procedure will not normally be accessed unless the Headteacher has first been given the opportunity to discuss the matter with the complainant. This complaint should be made in writing using the formal School Complaints Form which is available here as a word document for completion.
Should you be unable to find what you are looking for, please do let us know when you contact school so we can update this information to help others.

Complaints Policy
Latest News
14th Dec - We had a real treat, this afternoon, watching Divergent Drama's 'Cinderyeller'. Our pupils said: 'It was wonderful. When I grow up, I want to be an actor like them' and 'It inspired me to think that I might write a play'. Thank you to FOPS for providing the funds for this.
14th Dec - Two Governors visited school to discuss children's extended writing which is one of our school priorities. The pupils were able to talk about their learning using their oracy skills and share their learning in their books.
13th Dec - The final EYFS and KS1 performance was the very best! Wow!
12th Dec - The carols under the tree in Wimpole Stables were fabulous tonight. Thanks to Sandra at Wimpole, all those who attended - especially the children on the instruments - and to FOPS for the warm minced pies.
12th Dec - Thank you to all the parents and supporters who enjoyed the EYFS and KS1 performance today. We all agree it was fantastic!
12th Dec - Rowan class attended REActive Church today. Thank you so much to Rev Felicity and the volunteers for this season's sessions.
11th Dec - Elm and Ash class, your dress rehearsal was fantastic! Thank you for Mother Goose who joined us for this performance.
10th Dec - We were delighted to be invited to sing carols at the Methodist church. Thank you to Mr Holland for playing and for the display of Christmas trees, the train and lights.
7th Dec - Pine Class led a Roman Celebration of Learning assembly. They shared artwork, stories and poems and had a quiz on Roman numerals.
6th Dec - Today, Pine class enjoyed REActive Church.
5th Dec - GenR8 are visiting today to tell the Christmas story.
5th Dec - Thanks to Mrs Bonfield and our creative pupils, we now have a beautiful, hand made advent calendar in the hall.
4th Dec - Yew class attended REActive Church today as we prepare for Christmas.
3rd Dec - Thanks to FOPS for bringing that Christmas feel to Petersfield today with all the Christmas decorations. Don't forget the bauble competition to decorate the tree. Due Monday 17th December.
1st Dec - Join us today, 10am to 4pm, for the wonderful FOPS Christmas Fair. Christmas trees, Father Christmas, amazing stalls and delicious food are all available at the Lordsbridge Arena.
30th Nov - The Christingle was a beautiful service at church, the children looked in awe and wonder at the reflections from the light of the candle flames.
29th Nov - Following help from a large number of parents today, we now have our Christingles ready for tomorrow's church service.
23rd Nov - We were again delighted to welcome our EYFS parents into school today to share a lunch with our youngest pupils.
23rd Nov - Our pupils shared what they had learnt in Road Safety week. The youngest pupils told us to stop, listen and think and Elm class shared these words in Spanish. KS2 completed a traffic survey, discussed the pros and cons of walking home alone and discussed road safety.
22nd Nov - Well done to all the KS2 cross country runners who participated in the event today. We were impressed by your perseverance.
Latest Publications
Notices