Maths
We provide a comprehensive and engaging mathematics programme which follows the current Statutory Orders of the National Curriculum whilst also promoting the individual needs of our pupils. Pupils embed the 'non-negotiable' building blocks for maths as early as possible. Fluency, problem solving and reasoning are encouraged at all levels.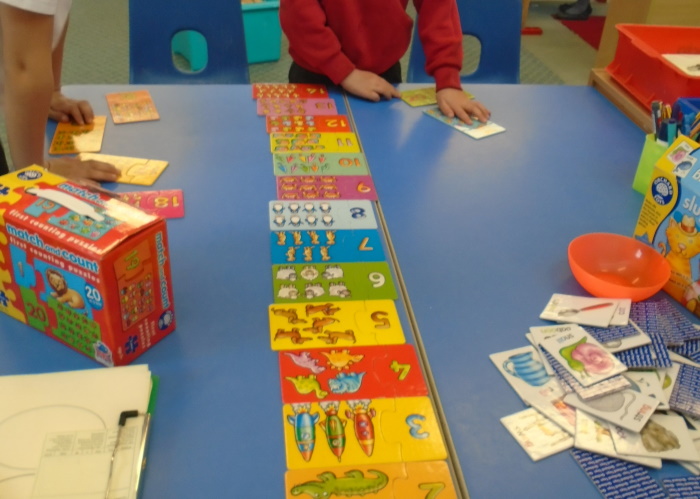 The four operations (addition, subtraction, multiplication and division) are taught incrementally so that a coherent approach is adopted throughout the school. The steps we use are detailed in our Calculation Policy. We acknowledge, however, the pupils all have preferred methods and make apparatus available in every classroom so that the pupils can access it to help themselves when and where they feel the need.
In Key Stage 1 we focus on number bonds, times tables knowledge and problem solving. Pupils develop confidence with our number system, learn about shapes, and use a variety of measures including length, mass, volume, time and money.
In Key Stage 2 we show our pupils how they can apply their existing knowledge to bigger (or smaller) or more difficult problems. We teach number and place value, the four operations, fractions, measures, geometry and statistics in progressive steps. The more complicated elements, such as percentages, ratio and simple algebra are taught in upper Key Stage 2, once the mathematical building blocks are secure.
Across the whole school we use Mathletics to reinforce topics taught in class and to encourage fluency.
In 2016/17, our primary focus was maths and we made a significant investment to refresh our mathematics curriculum in line with the new National Curriculum. This included working closely with our Maths Adviser and purchasing practical maths resources for all classrooms. We are grateful to the Thomas McGregor Foundation for their donation towards this. In 2018/19, maths is one of our key priorities.
Latest News
15th Feb - School is now closed for half term. We look forward to welcoming pupils, parents and visitors back to school on Monday 25th February
15th Feb - Congratulations to our Holland's Cup winner for demonstrating her musical skills this term.
12th Feb - Well done year 6! Your enthusiasm, questioning skills and enjoyment of the text were a credit to you during the first early morning booster session today.
8th Feb - Today we were joined by our Health and Safety Governor for a meeting with our representatives, followed by a Health and Safety walk around the school site. Together, we worked to identify any Health and Safety issues.
7th Feb - As part of their topic work, Pine class visited Flag Fen today. This was a fantastic opportunity and will support their further learning back in the classroom.
7th Feb - In their class assembly, we were delighted to see all the learning the pupils in Rowan class have achieved this term. The Mayan headdresses and painted faces were very effective!
5th Feb - E-Safety Day - 'We have learnt that there are many websites and organisations which might ask us to give them permission to use our personal data and what we should do to keep our date safe'.
1st Feb - We were delighted to welcome our EDRA into school today. She visited each class, celebrating the work on show and commented on how she could see the positive impact of our oracy work.
31st Jan - Our KS1 children joined in our E-Safety workshops, learning interactively how to stay safe online. They learnt that we do not always know who we are messaging and we must not share our details online.
Latest Publications
Notices