EYFS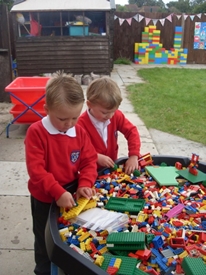 The Early Years Foundation Stage
We work closely with the local pre-schools and parents to assist us in identifying an accurate baseline and ensuring a smooth transition for all pupils starting school in Reception.
Our practise is largely informed by the Early Years Foundation Stage (EYFS) Framework which is adapted to meet the needs of each individual child. This is the statutory guidance on the standards that schools and childcare providers must meet for the learning, development and care of children under 5.
Planned, purposeful play is the foundation of development and learning for young children. It is the way skills are developed and practised. Children take part in a mix of child-initiated and adult led activities.
The curriculum is based upon 7 areas, 3 prime and 4 specific. The prime areas are Personal, Social and Emotional development, Physical Development and Communication and Language. The specific areas are Literacy, Mathematics, Understanding the World and Expressive Arts and Design.
Personal Social and Emotional Development
Making relationships
Self-confidence and self-awareness
Managing feelings and behaviours
Physical development
Moving and handling
Health and safety and care
Communication and Language
Listening and attention
Understanding
Speaking
Literacy
Maths
Numbers
Shape, space and measure
Understanding the World
People and communities
The world
Technology
Expressive Arts and Design
Exploring media and materials
Being imaginative
We assess children at the end of the Reception year against the Foundation stage profile. At the end of the year, progress and attainment will be reported to parents in an Early Years Foundation Stage report.
We develop children's characteristics of learning throughout the year using Growth Mindset characters. The characteristics of learning include:
Playing and Exploring - Finding out and exploring, Playing with what they know, Being willing to have a go.
Active Learning - Being involved and concentrating, Keeping trying, Enjoying achieving what they set out to do.
Creating and Thinking Critically - Having their own ideas, Making links, Choosing ways to do things.

EYFS Policy
Latest News
24th Jan - Well done to all the children who received their Head Teacher's Award - they really deserved it! School Council met today. We discussed ensuring the initiative 'Change Starts with us' is talked about in classes and plans drawn up.
17th Jan - Our Year 6 pupils performed a wonderful dramatic interpretation of the poem 'The secret of the machines', by Rudyard Kipling, in their class assembly today. This was inspirational for our younger pupils.
15th Jan - Rowan class held the FOPS cake sale today and reported: 'The cakes were delicious', 'I liked being able to sell the cakes I had made' and 'It was well organised'! Well done Rowan class! Thank you everyone for your support!
13th Jan - On Plough Monday, we welcomed the Molly Dancers into school. After two workshops, the dancing showcase was, as always, fantastic!
10th Jan - At our first School Council meeting of the spring term, we discussed behaviour, planting bulbs and the children's takeover day. Later this the month, they are looking forward to taking on the adult's roles in school!
7th Jan - Christmas recounts, greeting friends, and great thinking about the exciting new curriculum topics, what a great start to term! Please do keep looking at the class pages as we learn more about 'Travel and Transport', 'The Groovy Greeks' and 'Earth and Space'.
7th Jan - Welcome back to the start of the 2020 Spring Term!
6th Jan 2020 - Happy New Year! School is closed for INSET training. Today, staff are participating in professional development sessions on fire safety and the learning across the curriculum.
18th Dec - School is now closed for the Christmas holidays. We look forward to welcoming pupils, parents and visitors back to school from Tuesday 7th January 2020! Happy Christmas!
18th Dec - Christmas Parties would not be complete without a visit from Father Christmas! Every child received a gift. Merry Christmas!
18th Dec - Delicious! Christmas Dinner, thanks to our Lunchtime catering team.
18th Dec - Reception and our year 6 pupils led our Nativity service today. Thank you to all the parents who attended and walked with us.
17th Dec - The whole school went to the pantomime...oh yes we did! The children said 'best school day ever' and 'the jokes were funny and the props were good'. Thank you to FOPS for raising the money to pay for this amazing experience. Current ETA at school is as planned.
13th Dec - What an amazing time at the Rock Steady Concert! Thank you to Michael for his inspirational teaching! The Rock Staff Band had great fun singing 'Do they know it's Christmas?'. We truly are a musical school! Well done to the children awarded Headteacher Awards and the Holland's Cup.
Latest Publications
Notices