FOPS (PTA)
Parent Teachers Association
Petersfield FOPS is a well-established partnership between parents, teachers and the local community that aims to strengthen the school community and raise funds. Money raised by FOPS is to fund the 'extras' that the school would not otherwise be able to provide. Decisions about what to fund are made each year by the FOPS committee with input and requests from parents and teachers alike.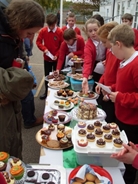 Regular FOPS events through out the school year include:
Fireworks night - a night of fun and fireworks for the whole family offering a good-value night with BBQ, Glosticks, mulled wine and hot chocolate, sweets and more! Join us on Friday 1st November 2019.
The Christmas Fair - a chance for the children to share the excitement of Christmas with a cake stall, teas and coffees, secret presents, a raffle, tombola, and games stalls. Saturday 7th December 2019 10am - 4pm.
Schools Discos - Key stage 1 and 2 discos held each term as a chance for pupils to get together with their friends and have fun. We sell sweets and drinks, do face-painting, temporary tattoos and nails.
RUN ORWELL – Offering chipped timed 5k and 10k routes and a 2k fun run, save the date - 28th June 2020. Visitwww.runorwell.com for more information.
Cake stalls - organised by the pupils and held once a half term hosted by each class in turn. It is a great way for pupils and parents to get involved as they help sell the cakes to the rest of the school and other parents.
Quiz nights - a great night out, and it does get quite raucous at times!
Visit www.friendsofpetersfield.comto find out more.
The Giving Machine allows you to shop at all major retailers and at the same time generate a donation to the FOPS without any cost to you. Just follow the link and sign up, adding 'Petersfield' as your cause to support.
The FOPS have set up an online ticket office for you to buy your tickets to the wonderful events run throughout the year such as the 'Pop Up Circus'. Here you can pay with credit or debit card. Please visit our PTA Website to see what's on sale and find out about upcoming events.
Examples of how FOPS funds have been used:
To improve the school library
Support the cost of school trips
Fund Mathletics - the ever popular maths software that is used in school and can be accessed from home
Provide additional resources and equipment
If you would like to get involved in some way, send us suggestions or feedback, please email the PTA: petersfieldpta@hotmail.com.
Latest News
For more information on Covid-19, please visit the 'Covid-19' page under the 'Classes' drop down menu for regular updates, videos and resources.
3rd June - Another fantastic start to the day. Well done everyone! If you are not in school, look out for the email with another story in today. If you want to send us a story you have read, we look forward to hearing it.
2nd June - We are absolutely delighted to see more parents and pupils today as we open to all keyworkers in all year groups. Every single person came in with a smile on their face and has quickly adapted to the changes. The socialising and learning has been a pleasure to see. Well done everyone.
1st June - Welcome back to Summer Half Term 2. Whilst is is very different to normal, it is great to see a few children in school today and taken the changes in their stride. For those children back in school, we are ringing you! Please listen our for our call!
16th April - This is 'National Offer Day' for new EYFS pupils due to join us in reception in September 2020. Welcome! Despite it not being in term time, please do email the office to accept your place. We look forward to responding to you with our transition plan after the Easter closure.
3rd April - Over Easter, the keyworkers and vulnerable provision is being hosted at Foxton school. For more information or if you need to contact us in an emergency, please see the Covid-19 page under the 'classes' drop down menu.
20th Mar - School is regrettably now closed as per government guidance. Please see the 'Covid-19' page under 'Classes' for more up to date information.
19th Mar - Year 5 and 6 researched, planned and planted the donated trees in the school grounds today.
17th Mar - Despite current events, well done to the year 6 children who participated so well in the 'booster' class tonight.
13th Mar - A huge thank you to everyone who gave so generously for dress down day. We have many chocolate goodies for FOPS.
13th Mar - Well done to all the pupils who received a Headteacher Award today. Their attitude to learning was an example to all.
Latest Publications
Notices