PTA
Parent Teachers Association
Petersfield PTA is a well established partnership between parents and teachers that aims to strengthen the school community and raise funds. Money raised by the PTA is to fund the 'extras' that the school would not otherwise be able to provide. Decisions about what to fund are made each year by the PTA with input and requests from parents and teachers alike.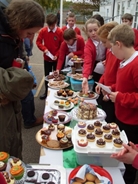 Regular PTA events through out the school year include:
Fireworks night - a night of fun and fireworks for the whole family offering a good-value night with BBQ, Glosticks, mulled wine and hot chocolate, sweets and more!
The Christmas Fayre - a chance for the children to share the excitement of Christmas with a cake stall, teas and coffees, secret presents, a raffle, tombola, and games stalls.
Schools Discos - Key stage 1 and 2 discos held each term as a chance for pupils to get together with their friends and have fun. We sell sweets and drinks, do face-painting, temporary tattoos and nails.
Summer Fayre - An extravangaza of summer fun with a huge range of fun stalls, games, raffles, bouncy castles and lots more too!
Cake stalls - organised by the pupils and held once a half term hosted by each class in turn. It is a great way for pupils and parents to get involved as they help sell the cakes to the rest of the school and other parents.
Annual Quiz night - in the Autumn term, a great night out, and it does get quite raucous at times!
The Giving Machine allows you to shop at all major retailers and at the same time generate a donation to the PTA without any cost to you. Just follow the link and sign up, adding 'Petersfield' as your cause to support.
The PTA have set up an online ticket office for you to buy your tickets to the wonderful events run throughout the year such as the 'Pop Up Circus'. Here you can pay with credit or debit card. Please visit our PTA Website to see what's on sale and find out about upcoming events.
Examples of how PTA funds have been used:
To improve the school library
Support the cost of school trips
Provide additional resources and equipment
If you would like to get involved in some way, send us suggestions or feedback, please email the PTA: petersfieldpta@hotmail.com.
Latest News
13th Oct - Well done to Yew class for holding their delicious FOPS cake sale.
13th Oct - School Council discussed how to further improve lunch time in school with classes and a CCS representative.
13th Oct - Rowan class assembly showcased their learning and they sang 'Search for the Hero'. We were very proud!
12th Oct - Year 5 and 6 visited West Stow and learnt many facts to support their ongoing topic in a hands on, exciting way.
5th Oct - Each class voted for a Health and Safety Representative. During the meeting, we discussed their roles and what it means to be a Health and Safety Rep in school. Each class has a book to record anything that needs addressing. The pupils are taking their responsibility very seriously.
5th Oct - We were again delighted to welcome more of our EYFS parents into school for lunch today.
3rd Oct - Well done to our year 5 representatives who participated in the County English Challenge. We were very proud of their teamwork and knowledge.
3rd Oct - It was delightful to welcome Rev. Felicity and Mr Holland back into school this term for Collective Worship.
3rd Oct - We were delighted to welcome parents of our new reception pupils into school to share a school lunch with us.
3rd Oct - Year 6 visited Ely Cathedral with Barrington School and many other pupils from around the Diocese.
29th Sept - We have raised nearly £200 for Macmillan Cancer Support. Special thanks go to Mrs Seiler who helped organise this. It was wonderful to see so many members of the community and old and new parents enjoying a delicious cake, cuppa and chat!
29th Sept - We held a reflective, thoughtful harvest service led by Revd. Felicity in church. Our pupils gave thanks for the food we eat and donated produce for Jimmy's Night Shelter in Cambridge. They understand how lucky they are and how we need to remember those who are not so fortunate.
28th Sept - We welcomed Mrs MacFarlane from Cambridge Catering Service into school to talk about our Healthy Lifestyles project.
26th Sept - Today we welcomed Mr John Lucas, our Ofsted inspector, into school.
25th Sept - We look forward to welcoming Ofsted into school tomorrow. Parents, please do click on the link to Parentview at the bottom of the page to share your views about our wonderful school.
22nd Sept - Big smiles could be see as individual and family photos were taken to send home and to update our welcome entrance board.
21st Sept - Mrs Miller led our assembly providing an interesting report on the items discovered at last year's archeological dig at Petersfield and at other locations in the village.
21st Sept - Thank you to Barrington School for hosting the Parenting Course taster session.
20th Sept - We are delighted to have been awarded our Bronze level Modeshift STARS accreditation as a result of our Travel Plan. Our aim, through this work is ensure safe, healthy and active travelling to and around our school.
20th Sept - Today our collaboration partner Headteachers - Mrs Davies from Barrington and Mrs Davies from Foxton - joined us in school and commented on the wonderful learning environment, high quality display of our pupils' work and the calm behavior.
19th Sept - We welcomed a member of the County Attendance team into school to review our Attendance procedures. More information to follow, but please do keep an eye on new weekly monitoring of our whole school attendance figure in reception.
Latest Publications
Notices