Aims and Values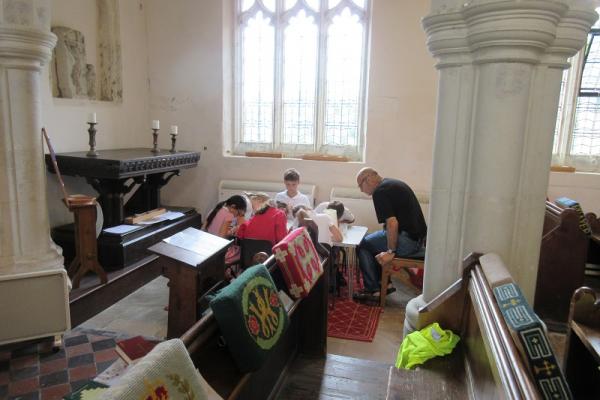 At Petersfield all staff and Governors subscribe to our school vision to inspire confident learners who will thrive in a changing world by:
Recognising the potential of every individual to achieve excellence, positively addressing underachievement.
Providing access to outstanding teaching, a range of excellent resources and an exciting, broad, balanced, enriched curriculum.
Providing a welcoming, calm, happy, purposeful, and nurturing community.
Developing self-motivation, independence, positive attitudes and confidence.
Providing a learning environment that is attractive, stimulating, informative and that instils a sense of pride.
Providing a high-quality education within a Christian context for pupils living within the parish boundaries of Arrington, Croydon, Orwell, Tadlow, Wimpole and Whaddon, and also for pupils from a wider area on religious grounds.
Promoting the values of: Respect, Friendship, Courage, Inspiration, Equality, Excellence and Determination.
In order to meet our vision, staff and the Governing Body agreed the following aims:
To ensure that every member of our community experiences a safe, happy environment based on the teachings of Jesus, which are love and forgiveness.
To foster confidence, responsibility and self esteem in each individual so that they can make good independent choices and contribute fully to the school and community.
To address all learning needs to develop each individual's full potential.
To engender a lifelong enjoyment of learning through the delivery of a broad and lively curriculum.
To prepare pupils to be good citizens in a diverse and rapidly changing multicultural world.
Our pupils considered the aims and the elected School Council decided to explain them in their own words.

Persevering in class
Education
Trusting all
Everyone matters
Respecting others
Safe in school
Friendship
Including everyone
Encourage
Loving God
Determination

Our School Motto is TEAM
Together
Everyone
Achieves
More
Our School Values are: love, friendship, creation, trust and peace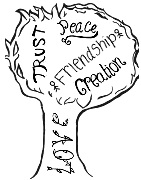 Latest News
13th Oct - Well done to Yew class for holding their delicious FOPS cake sale.
13th Oct - School Council discussed how to further improve lunch time in school with classes and a CCS representative.
13th Oct - Rowan class assembly showcased their learning and they sang 'Search for the Hero'. We were very proud!
12th Oct - Year 5 and 6 visited West Stow and learnt many facts to support their ongoing topic in a hands on, exciting way.
5th Oct - Each class voted for a Health and Safety Representative. During the meeting, we discussed their roles and what it means to be a Health and Safety Rep in school. Each class has a book to record anything that needs addressing. The pupils are taking their responsibility very seriously.
5th Oct - We were again delighted to welcome more of our EYFS parents into school for lunch today.
3rd Oct - Well done to our year 5 representatives who participated in the County English Challenge. We were very proud of their teamwork and knowledge.
3rd Oct - It was delightful to welcome Rev. Felicity and Mr Holland back into school this term for Collective Worship.
3rd Oct - We were delighted to welcome parents of our new reception pupils into school to share a school lunch with us.
3rd Oct - Year 6 visited Ely Cathedral with Barrington School and many other pupils from around the Diocese.
29th Sept - We have raised nearly £200 for Macmillan Cancer Support. Special thanks go to Mrs Seiler who helped organise this. It was wonderful to see so many members of the community and old and new parents enjoying a delicious cake, cuppa and chat!
29th Sept - We held a reflective, thoughtful harvest service led by Revd. Felicity in church. Our pupils gave thanks for the food we eat and donated produce for Jimmy's Night Shelter in Cambridge. They understand how lucky they are and how we need to remember those who are not so fortunate.
28th Sept - We welcomed Mrs MacFarlane from Cambridge Catering Service into school to talk about our Healthy Lifestyles project.
26th Sept - Today we welcomed Mr John Lucas, our Ofsted inspector, into school.
25th Sept - We look forward to welcoming Ofsted into school tomorrow. Parents, please do click on the link to Parentview at the bottom of the page to share your views about our wonderful school.
22nd Sept - Big smiles could be see as individual and family photos were taken to send home and to update our welcome entrance board.
21st Sept - Mrs Miller led our assembly providing an interesting report on the items discovered at last year's archeological dig at Petersfield and at other locations in the village.
21st Sept - Thank you to Barrington School for hosting the Parenting Course taster session.
20th Sept - We are delighted to have been awarded our Bronze level Modeshift STARS accreditation as a result of our Travel Plan. Our aim, through this work is ensure safe, healthy and active travelling to and around our school.
20th Sept - Today our collaboration partner Headteachers - Mrs Davies from Barrington and Mrs Davies from Foxton - joined us in school and commented on the wonderful learning environment, high quality display of our pupils' work and the calm behavior.
19th Sept - We welcomed a member of the County Attendance team into school to review our Attendance procedures. More information to follow, but please do keep an eye on new weekly monitoring of our whole school attendance figure in reception.
Latest Publications
Notices