Aims and Values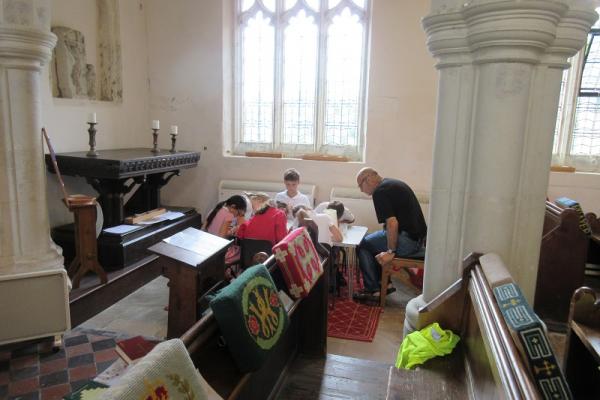 At Petersfield all staff and Governors subscribe to our school vision to inspire confident learners who will thrive in a changing world by:
Recognising the potential of every individual to achieve excellence, positively addressing underachievement.
Providing access to outstanding teaching, a range of excellent resources and an exciting, broad, balanced, enriched curriculum.
Providing a welcoming, calm, happy, purposeful, and nurturing community.
Developing self-motivation, independence, positive attitudes and confidence.
Providing a learning environment that is attractive, stimulating, informative and that instils a sense of pride.
Providing a high-quality education within a Christian context for pupils living within the parish boundaries of Arrington, Croydon, Orwell, Tadlow, Wimpole and Whaddon, and also for pupils from a wider area on religious grounds.
Promoting the values of: Respect, Friendship, Courage, Inspiration, Equality, Excellence and Determination.
In order to meet our vision, staff and the Governing Body agreed the following aims:
To ensure that every member of our community experiences a safe, happy environment based on the teachings of Jesus, which are love and forgiveness.
To foster confidence, responsibility and self esteem in each individual so that they can make good independent choices and contribute fully to the school and community.
To address all learning needs to develop each individual's full potential.
To engender a lifelong enjoyment of learning through the delivery of a broad and lively curriculum.
To prepare pupils to be good citizens in a diverse and rapidly changing multicultural world.
Our pupils considered the aims and the elected School Council decided to explain them in their own words.

Persevering in class
Education
Trusting all
Everyone matters
Respecting others
Safe in school
Friendship
Including everyone
Encourage
Loving God
Determination

Our School Motto is TEAM
Together
Everyone
Achieves
More
Our School Values are: love, friendship, creation, trust and peace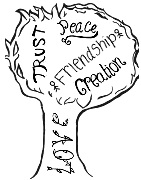 Latest News
17th Jun - INSET day. School is closed to pupils, parents and visitors today as staff attend the training day. This is one of 5 required days set throughout the academic year. Please see the 'Term Dates' section of this website for next year's training dates.
14th Jun - We were delighted by the huge turnout of male carers who attended our Father's Day lunch and afternoon activities. It was wonderful seeing the children enjoying the company. The 'bee-related' activities mean the honey bees now have many homes!
14th Jun - Our 'Walk to School' week finished with the sun shining! Thank you to the volunteers who walked with us throughout the week. They enabled so many children and staff to have more exercise before the start of the school day.
12th Jun - Our year 4 pupils attended the first session of our new coding club, thanks to Mr Anderson and our parent volunteer. We look forward to seeing the outcome from all their new skills.
11th Jun - We were delighted to be joined by Bishop Stephen, Beverley from Age UK and many members of the community to celebrate the work of our Lent Challenge. Bishop Stephen led collective worship, was given a tour of our school by the pupils than had a cup of tea with the Petersfield Community.
11th Jun - Mrs Penrose was joined by a County representative for a bus ride along today. The positive comments about the bus escort and children were a delight to hear.
10th Jun - Well done to all those who joined us to walk to school, despite the weather, as we started Walk to School Week.
9th Jun - Thanks to parents, governors, pupils, staff and the community, our Sensory Garden looked amazing following the final touches and the addition of our pupils' sculptures. Ice-creams added to the enjoyment and we were delighted to welcome so many people in as part of Orwell Open Gardenss.
7th Jun - It was, once again, a delight to see the incredible variety of learning that had taken place over the half term. Rainforests, quizzes, home-made clocks, dazzling artwork and so much more!! Thank you to the parents who came to see and hear about the learning.
6th Jun - Some pupils in KS2 took part in an inter-school 'Quad Kids'. They enjoyed this event and worked well together.
6th Jun - Well done to the pupils who took part in the Maths Challenge in Cambridge. They demonstrated their amazing fluency and reasoning skills.
6th Jun - We were absolutely delighted to welcome all of KS2 from Barrington and Foxton to our BFP Healthy Minds and Healthy Bodies Oracy day. What a showcase of oracy skills with new friends!
3rd Jun - Welcome back to the first day of the busy, exciting and final half term of the 18-19 academic year.
24th May - School is now closed. We wish all our children and their families a lovely half term break. Enjoy the sunshine and we look forward to welcoming you back into school on Monday 3rd June.
23rd May - Today, our Year 6 pupils had the wonderful opportunity to do practical scientific experiments with Claire from the Children Challenging Industry (CCI) programme (primary schools and science-based manufacturing companies working together) as part of the science curriculum.
22nd May - Wow year 2! You should be very proud of your attitude and achievement over the last two weeks as you have taken SATs in your stride showing all you have learnt. We are very proud of you!
21st May - Excellent fun in the river was had by all Rowan and Yes class at Stibbington!
17th May - We celebrated the pupils' varied achievements in assembly. All of year 6 achieved an award due to their hard work and positive attitude this week. Mr Hollands presented his cup to a child who demonstrated a great willingness to learn the piano and play in a band in the Rock Steady group.
16th May - Well done Year 6. SATs are done! You are a credit to yourself and Peterfield School!
Latest Publications
Notices